Dive Silfra
Ein Muss für jeden Trocki-Taucher
Tauchen Sie ein in die einzigartige Unterwasserwelt mit unvergleichlichen Sichtweiten! Silfra ist ein Felsspalte in der Erde, aufgebrochen durch die Bewegungen der Eurasischen und der Nordamerikanisch- tektonischen Platte. Das kristallklare Gletscherwasser, welches diese Spalte füllt, wurde jahrzehntelang durch unterirdisches Lavagestein gefiltert und bietet über 100 Meter Sichtweite. Die Unterwasserszenen in Silfra sind wie keine Anderen auf dieser Erde.
Falls Sie mit uns fahren, beginnt Ihre Silfra-Tauch-Tagestour wenn wir Sie bei Ihrer Unterkunft in Reykjavik abholen. Während der einstündigen Fahrt kann der Guide Sie mit Hintergrundinformationen zu der einzigartigen Geologie und Kulturgeschichte Silfras und des umliegenden UNESCO Weltkulturerbes versorgen. Falls Sie selbstständig anreisen, haben Sie die Option uns direkt im Nationalpark Thingvellir zu treffen. Klicken Sie diesen Link um eine Anfahrtsbeschreibung zum Treffpunkt in Thingvellir zu finden.
Nach Ankunft bei der Silfra Spalte wird der Guide Ihnen eine detaillierte Einweisung zum Tauchplatz geben und Ihnen dann dabei behilflich sein, die Tauchausrüstung vorzubereiten. Wir verwenden nur hochqualitative BARE und Aqualung Marken-Tauchausrüstung und APEX, sowie Aqualung Regulatoren.
Danach wird es Zeit den Sprung zu wagen und selbst das Tauchen in Silfras ursprünglichem, kristalklarem Wasser zu erleben. Aufgrund der jahrzehntelangen Filterung durch Islands vulkanisches Basaltgestein, können Sie gerne ein paar Schluck während des Tauchgangs nehmen; Sie werden kaum reineres Trinkwasser finden als dieses.
Während der Tour werden Sie die 4 Hauptteile von Silfra entdecken können. Sie werden durch Big Crack (Der Grosse Spalt) dahintreiben, Silfras engster Teil, wo Sie Ihr "Zwischen den Kontinenten" Foto machen lassen können. Danach verbreitert sich die Spalte zu Silfra Hall, dem Saal Silfras, mit der Wahrscheinlichkeit, die einheimischen Gänse und Enten über Ihren Köpfen paddeln zu sehen. Nahe der Mündung zum Thingvallavatn werden wir die Kathedrale Silfras betreten, Silfra Cathedral; falls weitere Taucher vor uns dort sind, erwartet Sie ein "Kronleuchter-Bild" der aufsteigenden Luftblasen. Ihr Tauchgang endet dann in den endlosen Sichtweiten der Silfra Lagoon (Silfra Lagune).
Nach dem ersten Tauchgang geht es mit der Tauchausrüstung einen etwas anspruchsvollen, aber lohnenden 250 Meter Pfad zurück, um dann unsere Hände und Gemüter an heisser Schokolade und Keksen aufzuwärmen. Zögern Sie nicht Ihren Guide um Hilfe mit der Ausrüstung zufragen.
Der Tauchgang wird ca.45 Minuten dauern, mit einer Maximaltiefe von 18 Metern.
Falls Sie Freunde oder Familienangehörige haben, die noch nicht zertifizierte Taucher sind, jedoch trotzdem Silfra erleben möchten, können sie gerne mit auf eine unserer Silfra-Schnorcheltouren kommen.
Um an dieser Tour teilnehmen zu können, müssen Sie im Besitz eines Trockentauchscheins sein oder 10 aufgezeichnete Trockenanzug-Tauchgänge innerhalb der letzten 2 Jahre vorweisen können, mit der Möglichkeit diese schriftlich durch einen Tauch-Instructor bestätigen lassen zu können.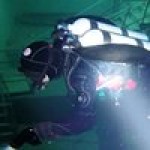 Great experience
I did my dive in Silfra in April 2021 - due to the travel restictions I was the only guest, and Ants was an excellent guide. First he took the time outlining the course of the dive and then guided me though the fault while taking professional pictures.
All in all, it was a great experience, well organized fom checking-in to the much appreciated hot chocolate afterwards

(If you have booked a tour with pick up you will first meet your driver at the selected pick-up location in Reykjavik)
Arrival at the meeting point at Silfra 15 minutes before the tour start time, check-in with guides
Division into groups of 3 people, one group per guide
Briefing and gear-up with your guide (∼1 hour total)
Once you are fully dressed, your guide will take a number from the park ranger and that will be your group's number to enter the water
Make your way to the entry platform, short wait (wait time may vary)
Weight check upon entering the water
30-45 minutes spent in the water
Exit through platform, walk back to the meeting point (∼250 meters)
Take off equipment, enjoy hot chocolate and cookies to warm up
At this point, you will have time to chat with your guide, ask any questions you might have and take a look at the pics taken during the tour
Loading YouTube Player...