Bubbling sands and geothermal sea baths in Húsavík
The perfect Diamond circle selfdrive combo
Your adventure begins with a snorkeling tour at Litlaá river. North Iceland, just south of the arctic circle, is an unusual place to find a 12-17°C river, but its geothermal activity keeps it a nice warm temperature. The river is shallow allowing you a clear view of what lies beneath the surface.
The river's floor is full of mesmerising dancing volcanic sands and multicoloured sediments leaping from the bottom. The heated water erupts from below the bottom causing beautiful designs and ripples in the riverbed while you drift along the surface above. This has been described by the phrase "Bubbling sands" and is a sight best seen with own eyes.
Mixed in with the bubbling sands you will see beautiful fields of green algea which are mesmerising to look at. The underworld at it's best.
You will be provided with a dry suit and an undergarment to keep you dry and warm. We recommend that you wear thermal long-underwear and wool socks for additional warmth.
After your 30-40 minute snorkeling session in Litlaá river, you make your way to the town of Húsavík.
There you will experience a different type of geothermal activity, the geothermal sea baths of Geosea. The seawater is packed with minerals which will revitalize your skin. A visit to the steam rooms will make the experience even more relaxing and enjoyable.
If you plan to drive the Diamond circle, we suggest you start your day sightseeing Goðafoss waterfall, Lake Mývatn, Dettifoss waterfall and the beautiful canyons of Ásbyrgi before starting the snorkeling tour. The last location is the whale watching capital of Húsavík where you can end your day soaking in the Geosea - Geothermal sea baths.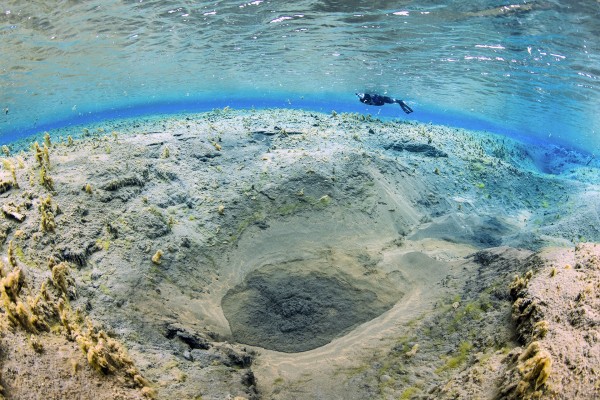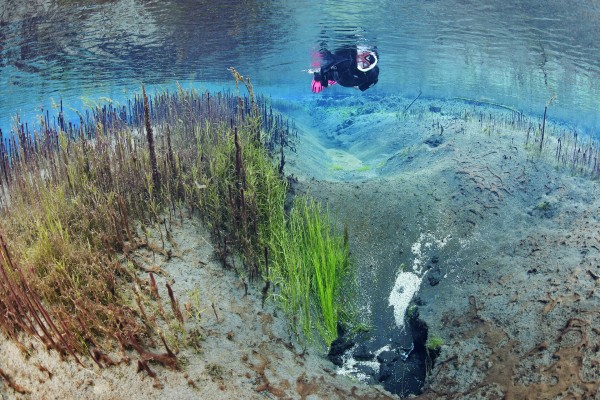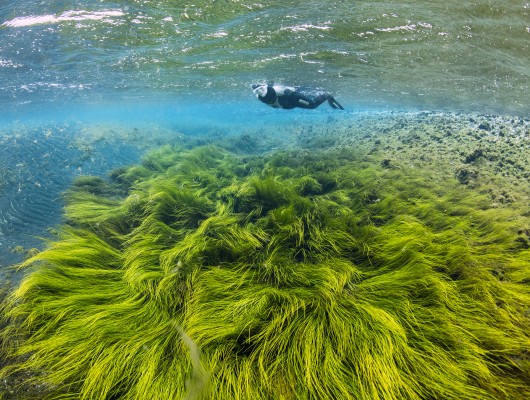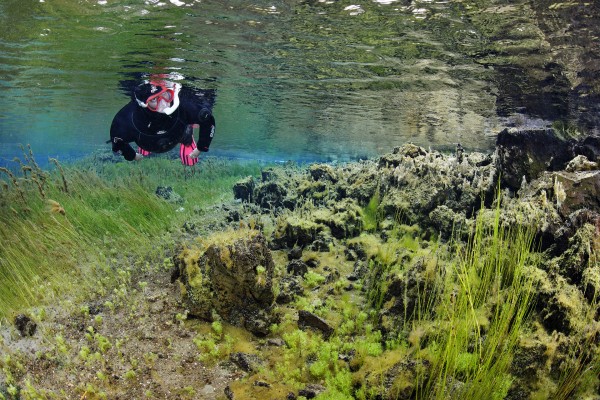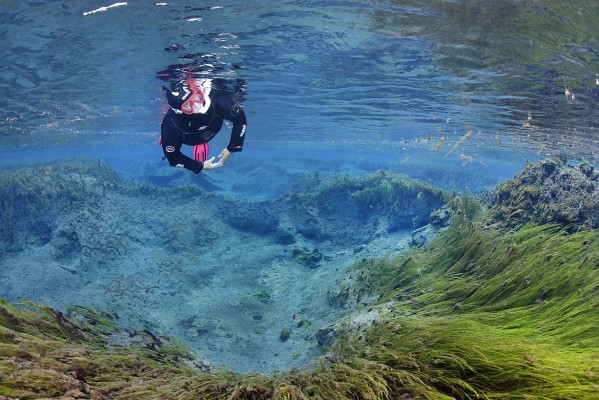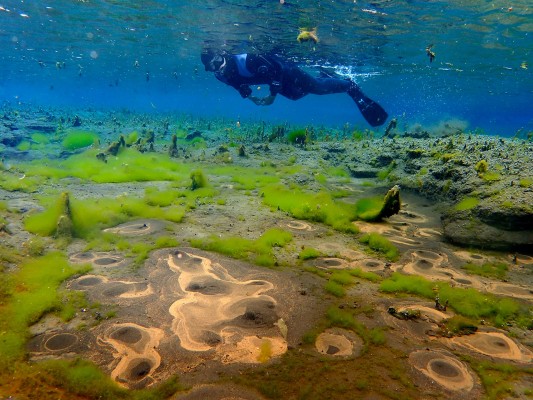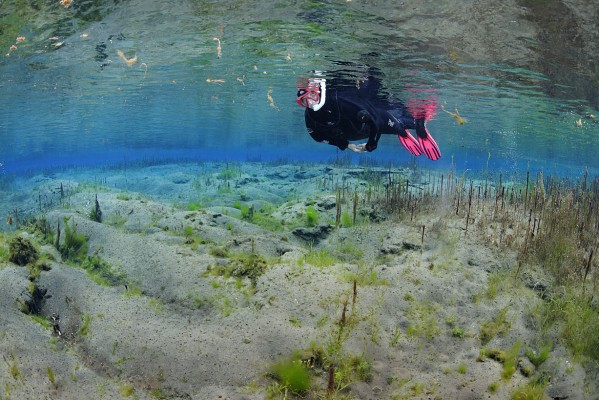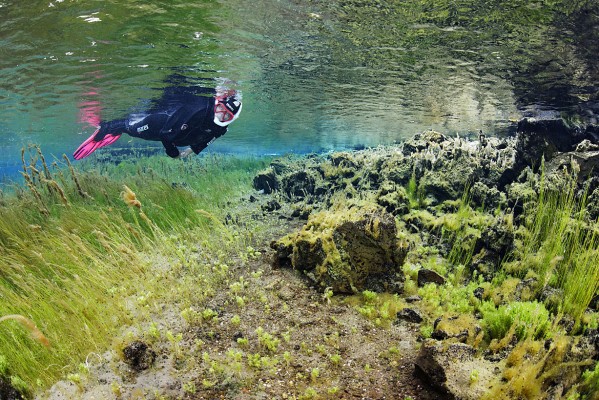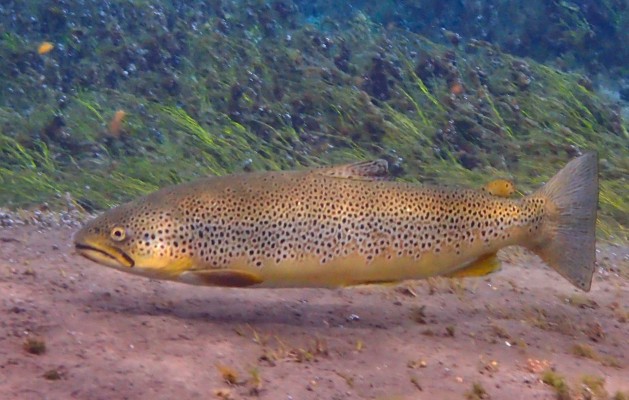 July

Don't see a tour time that works for you, contact us at dive@dive.is and we will find the best time for you

Approx. 5 hours, 2.5 hours snorkeling tour, 30 min driving, 2 hours at spa

Maximum 8 snorkelers per snorkel guide

Minimum 2 snorkelers. We will refund you in full if the minimum is not met
Included:
Guided snorkeling trip
All necessary snorkeling equipment
Hot chocolate and cookies after the snorkeling trip
Entrance fee to Geoseo - Geothermal sea bath
Please bring:
Long underwear
Thick socks
Suitable clothes for the weather of the day
Contact lenses if you wear glasses
Bathing suit and towel for your visit to Geosea
Safety requirements
have read, signed, and followed directions on the online Snorkeling Medical Statement (link provided in confirmation email) PDF

have our Snorkeling Medical form signed off by a doctor if they are age 60 or older PDF

sign our liability release form at the start of the snorkeling tour PDF

be at minimum 150cm / maximum 200cm

be at minimum 45kg / maximum 120kg

fit within our dry suit size chart PDF

be at least 12 years of age on the year and at least 45 kg / 99 lbs

be comfortable in water and be able to swim

be physically fit

be ready to wear a sometimes tight & constricting dry suit

be able to communicate in English

not be pregnant
When you arrive at Litlaá river you will meet the DIVE.IS guide who will give you a detailed briefing of the snorkeling tour and get you dressed into our top quality snorkeling dry suit and other gear.
You will enter Litlaá river at the entry point and snorkel down the river and in the lagoon for about 30-45 minutes.
Then, you will exit the river and walk back to the parking lot.
After the snorkeling tour, we will warm you up with hot cocoa and cookies.
You will then drive to Húsavík and make your way to Geosea - geothermal sea baths where you can soak in the spa and take in the breathtaking view for as long as you want
Loading YouTube Player...
You might be guided by one of these nice guys
Address
Snorkeling site
Near Keldunes 85, 671 Ásbyrgi
Geosea - Geothermal sea baths
Vitaslóð 1
640 Húsavík
Open in Google Maps