Hot Spring Snorkeling
Where few have been before
Snorkeling in bubbling hot springs is usually impossible as the water is far too hot, but the hot springs at the bottom of Lake Kleifarvatn provide us with the opportunity to do just that. Lake Kleifarvatn is hidden within a stunning volcanic landscape just 30 minutes outside of Reykjavík and only 20 minutes from the active volcano at Geldingadalir in Reykjanes peninsula. Talk about a unique tour!
Standing at the lake shore and changing into your dry suit, you will probably catch a whiff of the sulfur emitted from nearby hot springs and the total silence will let you forget that you are anywhere near civilization.
The underwater hot springs in lake Kleifarvatn have only recently been discovered and are about a 150 meter swim from the shore. Upon entering the lake you can see the white and yellow sulfur deposits on the lake floor. When we swim closer, you'll begin to sense the environent around you changing as you approach the gas emanating from below the lake's floor. We've heard this sensation described as similar to 'snorkeling in a glass of Champagne'—the fact that you are snorkeling in a caldera is also impressive enough!
When back on land we will enjoy some refreshments at the shore before moving on to Seltún, a nearby high temperature geothermal area on land. In Seltún we will walk along the boiling mud pots and colorful sulfur deposits.
We highly recommend that you bring your swimsuit with you. Your next stop after this tour could be the nearby Blue Lagoon or at one of Reykjavík's local geothermal pools where you can relax in the hot tubs and end the day in traditional Icelandic fashion.
Book our Hot Spring Snorkeling & Blue Lagoon Combo to top off your geothermal experience in Iceland!
Our Souvenirs can be purchased in your booking process by selecting them under "Extras". If the Souvenir you are looking for is not listed below please contact us or leave a comment in your booking and we will bring it on tour with us.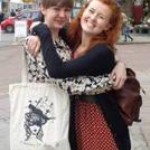 Incredible GEOTHERMAL SNORKELING - the ONLY company in iceland to offer this incredible experience!
What can I say!? Mind blowing geothermal snorkeling at Kleifarvatn. It was the first time I had ever snorkelled and definitely won't be the last, and definitely not the last with dive.is.
I felt like a mermaid swimming amongst the streams of bubbles erupting straight from the centre of the earth, whilst floating above the glittering mineral deposits.
Completely tourist free experience. Just the 4 of us and the whole geothermal area to ourselves. Not another human or car in sight! Definitely an off the beaten track tour.
Perfect small group experience with an amazing guide - shout out to Jukka, who was incredibly friendly and well informed about the geology of the area and how the geothermal fissures in the lake formed.
WARMER WATER THAN SILFRA. And warm soup, fresh bread, hot chocolate and chocolate biscuits after!
Post-snorkel visit to the geothermal area Seltun - very similar to Hveravellir near Myvatn, without having to travel to the northeast! Perfect if you are only staying around the Reykjavik area.
Could not recommend it any more highly!

1 May - 30 September

Don't see a tour time that works for you? Contact us at dive@dive.is and we will find the best time

2 hours

Maximum of 8 snorkelers per snorkel guide

Minimum 4 snorkelers. We will refund you in full if the minimum is not met

Google maps meeting point at Seltún Geothermal Area parking lot
Included
Guided snorkeling trip
All necessary snorkeling equipment
Hot chocolate and cookies at the lake's shore
Vegan hot chocolate and cookies available, if you are vegan let us know at dive@dive.is
Stop at geothermal area Seltún
Please bring
Long underwear
Thick socks
Suitable clothes for the weather of the day
Contact lenses if you wear glasses
A COVID19 face mask
Covid-19 safety precautions
We are a certified partner of the Clean and Safe initiative
Only 8 passengers with a guide
Plenty of space at Kleifarvatn to uphold the 2 meter rule
Mandatory mask use on our transfer bus and within 2m at Kleifarvatn (if needed)
Customers bring their own COVID19 face mask
Hand sanitizer and disposable gloves are provided in our bus and at Kleifarvatn
All equipment and vehicles are thoroughly sanitized after every tour
Safety requirements
Participants must:
have read, signed, and followed directions on the online Snorkeling Medical Statement (link provided in confirmation email) PDF

have our Snorkeling Medical form signed off by a doctor if they are age 60 or older PDF

sign our liability release form at the start of the snorkeling tour PDF

be at minimum 150cm / maximum 200cm

be at minimum 45kg / maximum 120kg

fit within our dry suit size chart PDF

be at least 12 years of age on the year and at least 45 kg / 99 lbs

be comfortable in water and be able to swim

be physically fit

be ready to wear a sometimes tight & constricting dry suit

be able to communicate in English

not be pregnant
Arrival at the meeting point at Kleifarvatn 15 minutes before the tour start time, check-in with guides
Division into groups of 8 people, one group per guide
Briefing and gear-up with your guide (∼1 hour total)
Make your way to the entry point
30-45 minutes spent in the water
Exit the water, take off equipment, enjoy hot chocolate and cookies to warm up
At this point, you will have time to chat with your guide, ask any questions you might have and take a look at the pics taken during the tour
Short drive to Krýsuvík
Visit to the Seltún geothermal hot springs area
Drive back to Reykjavik
Loading YouTube Player...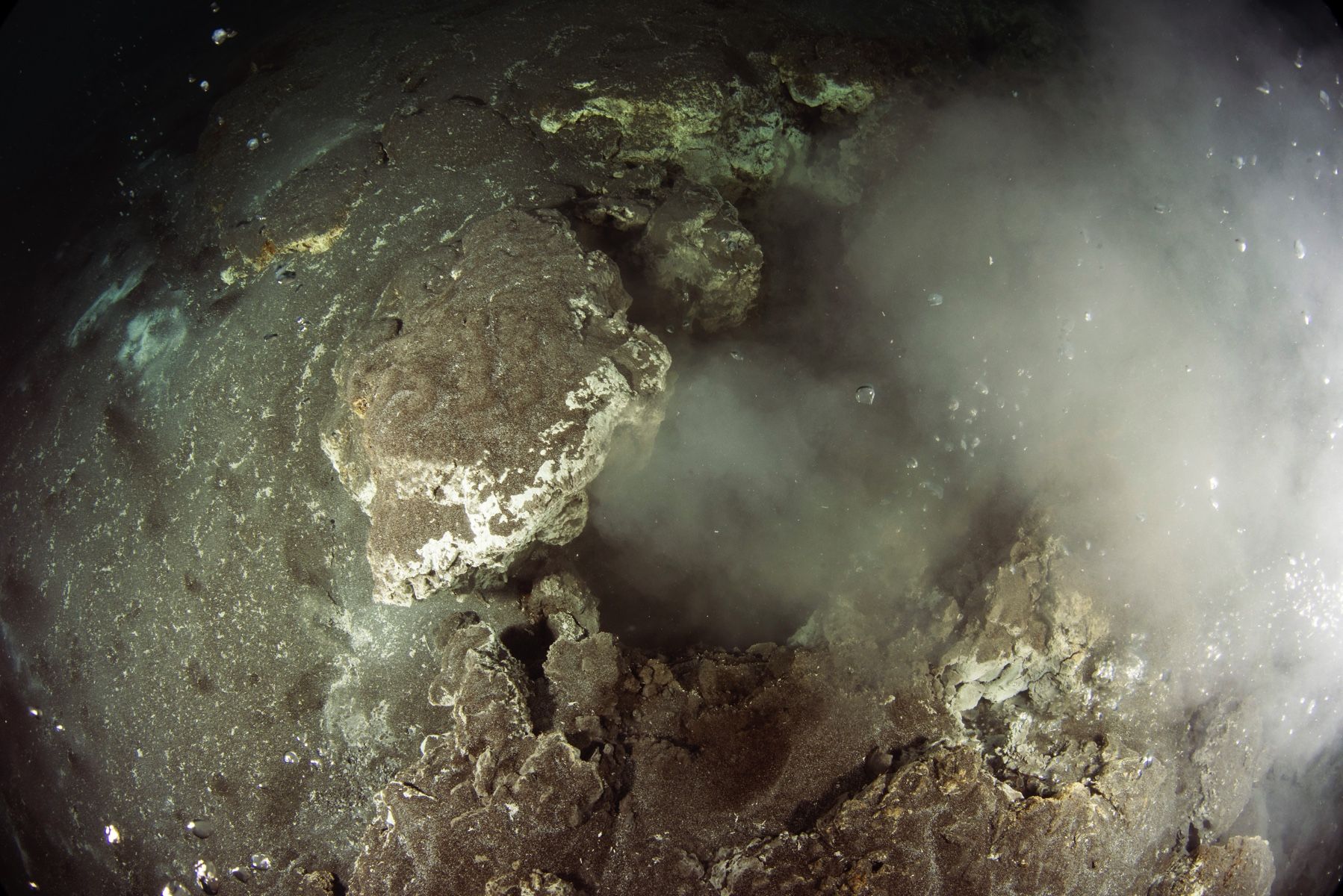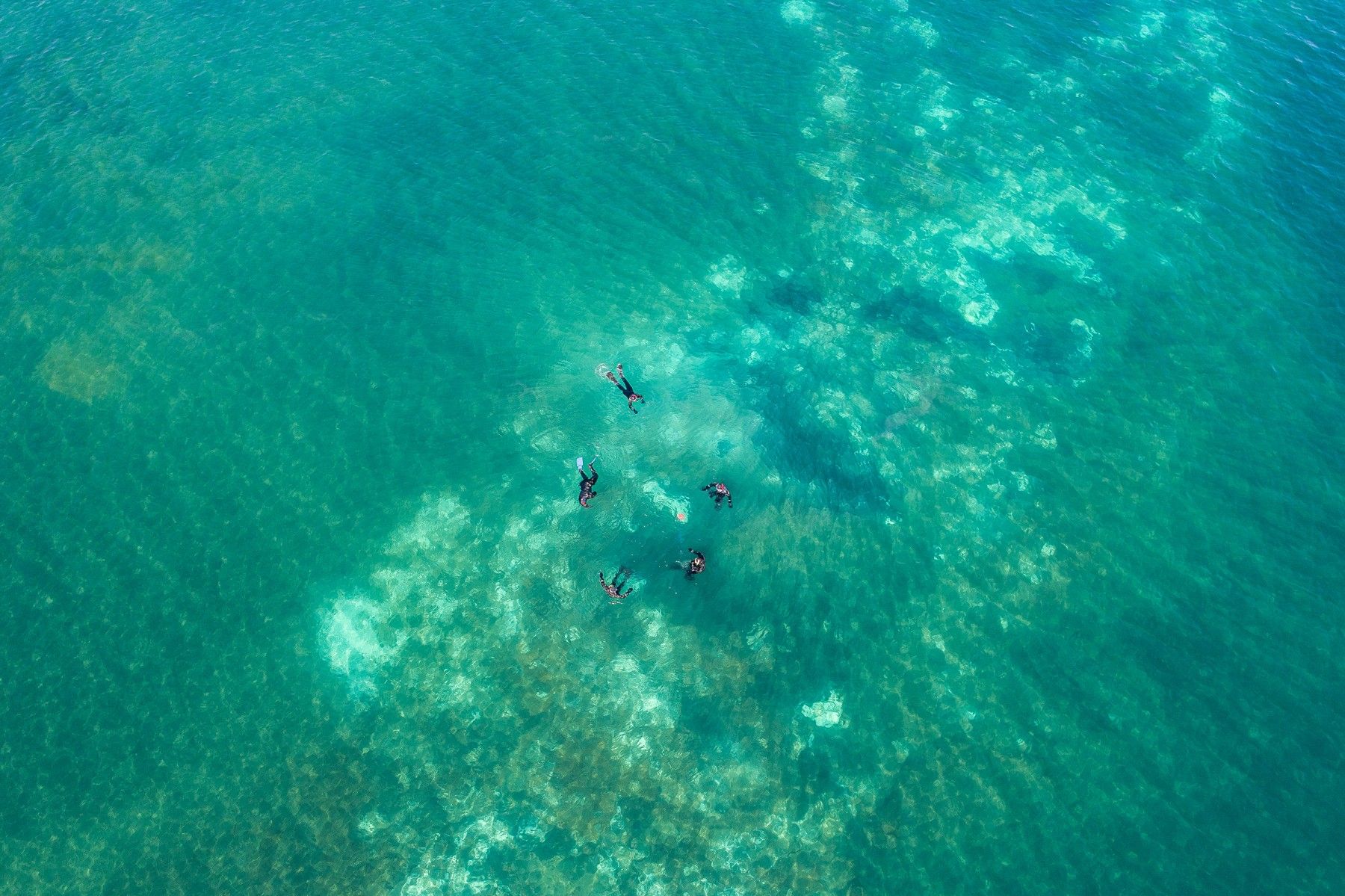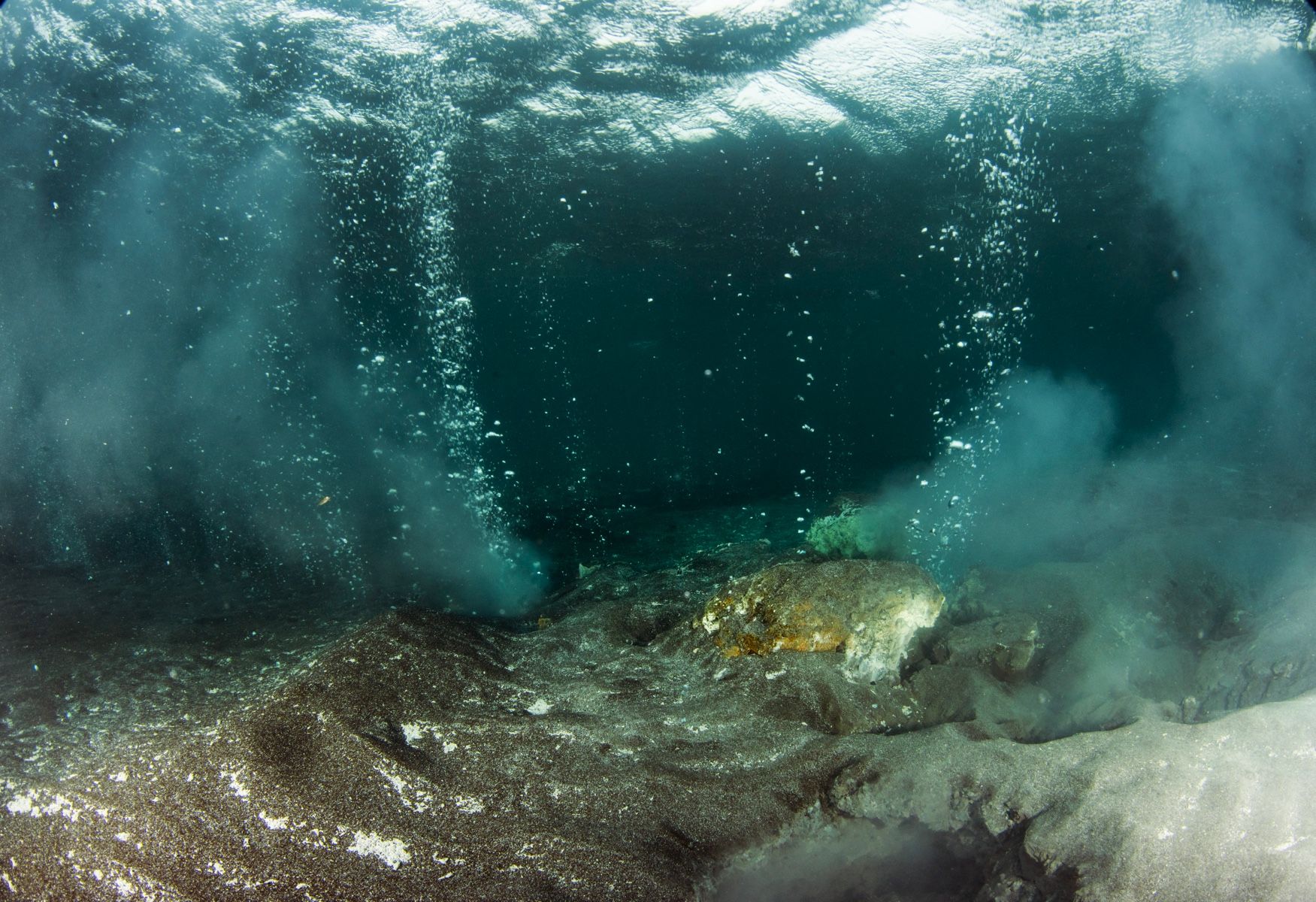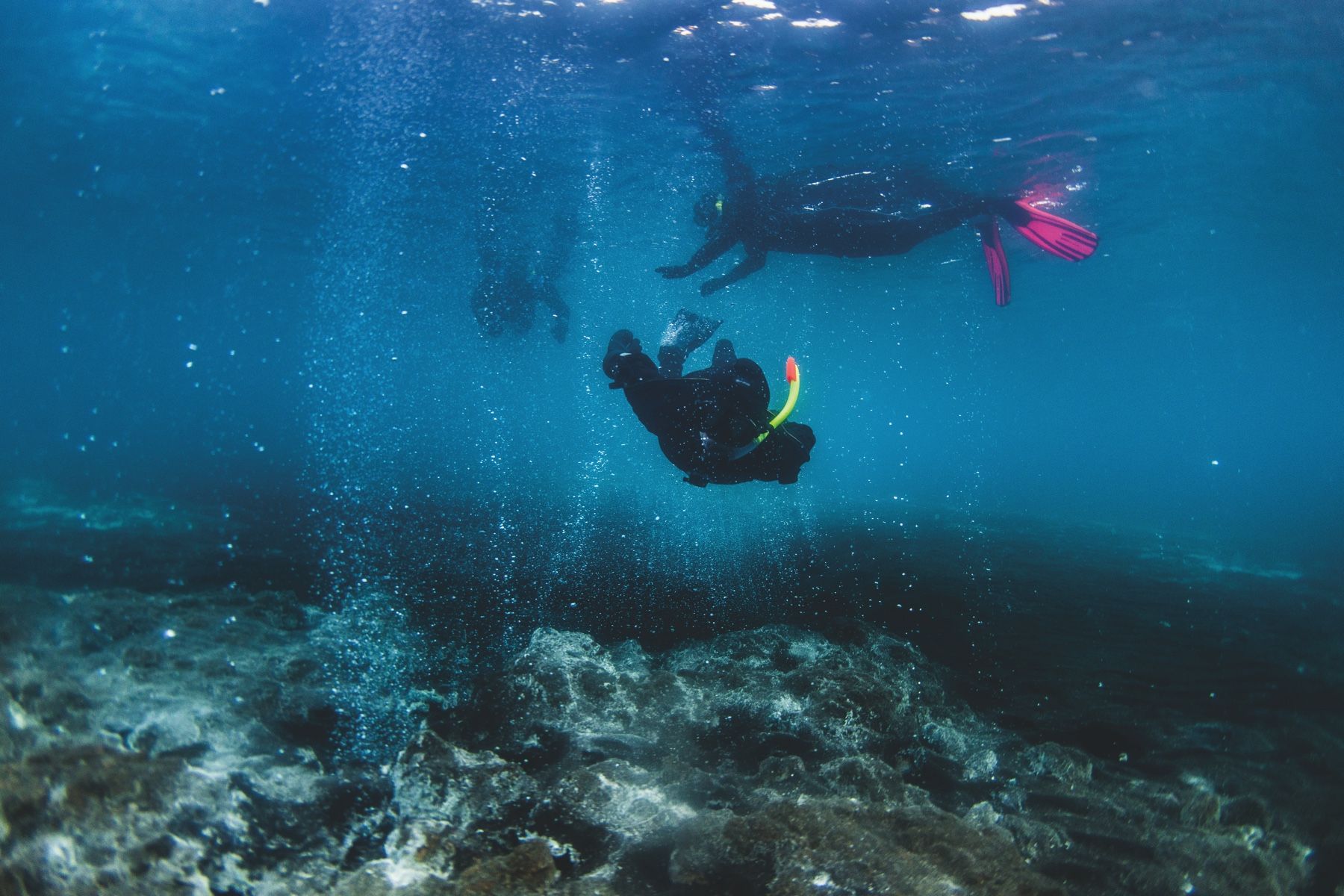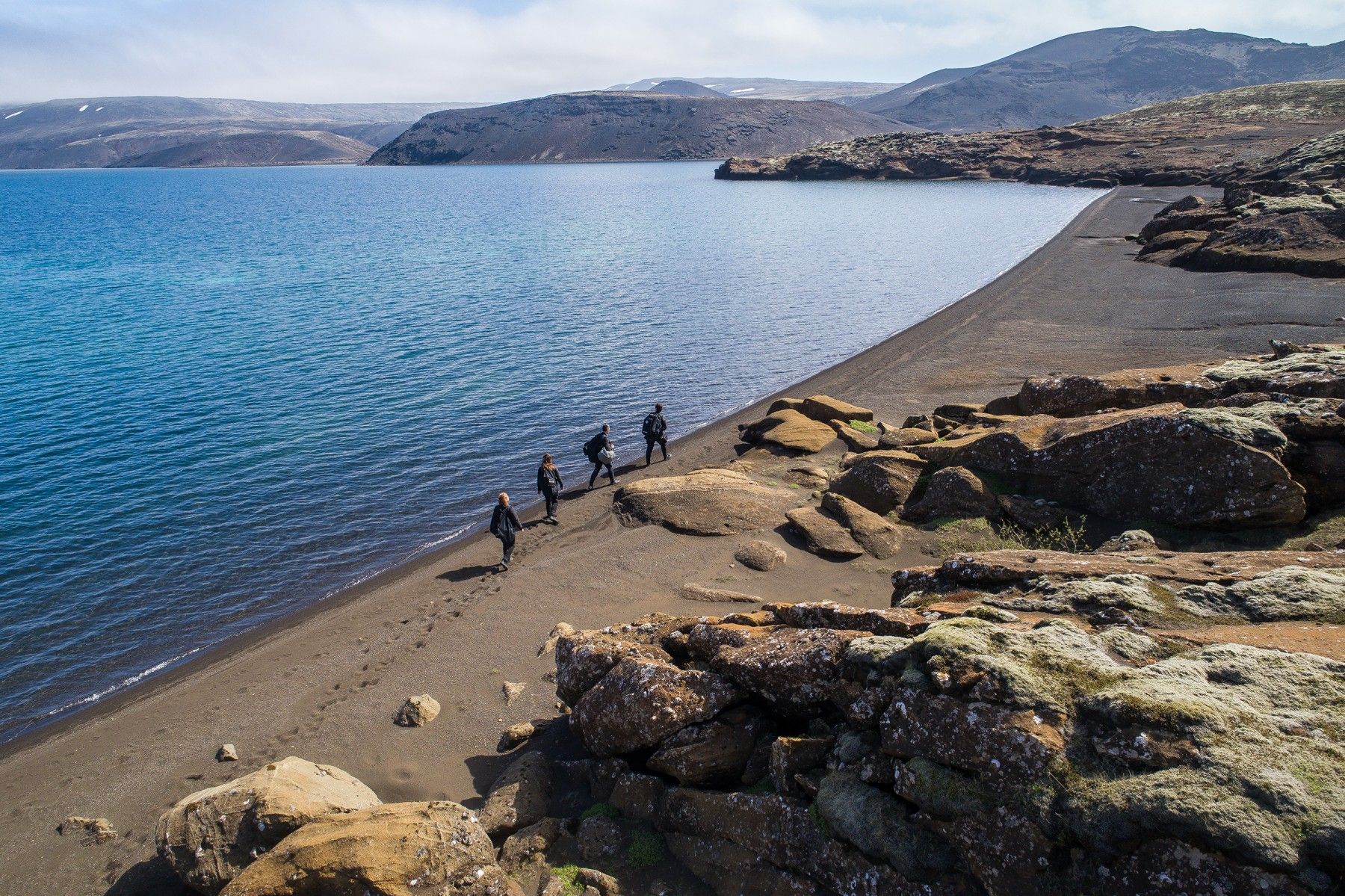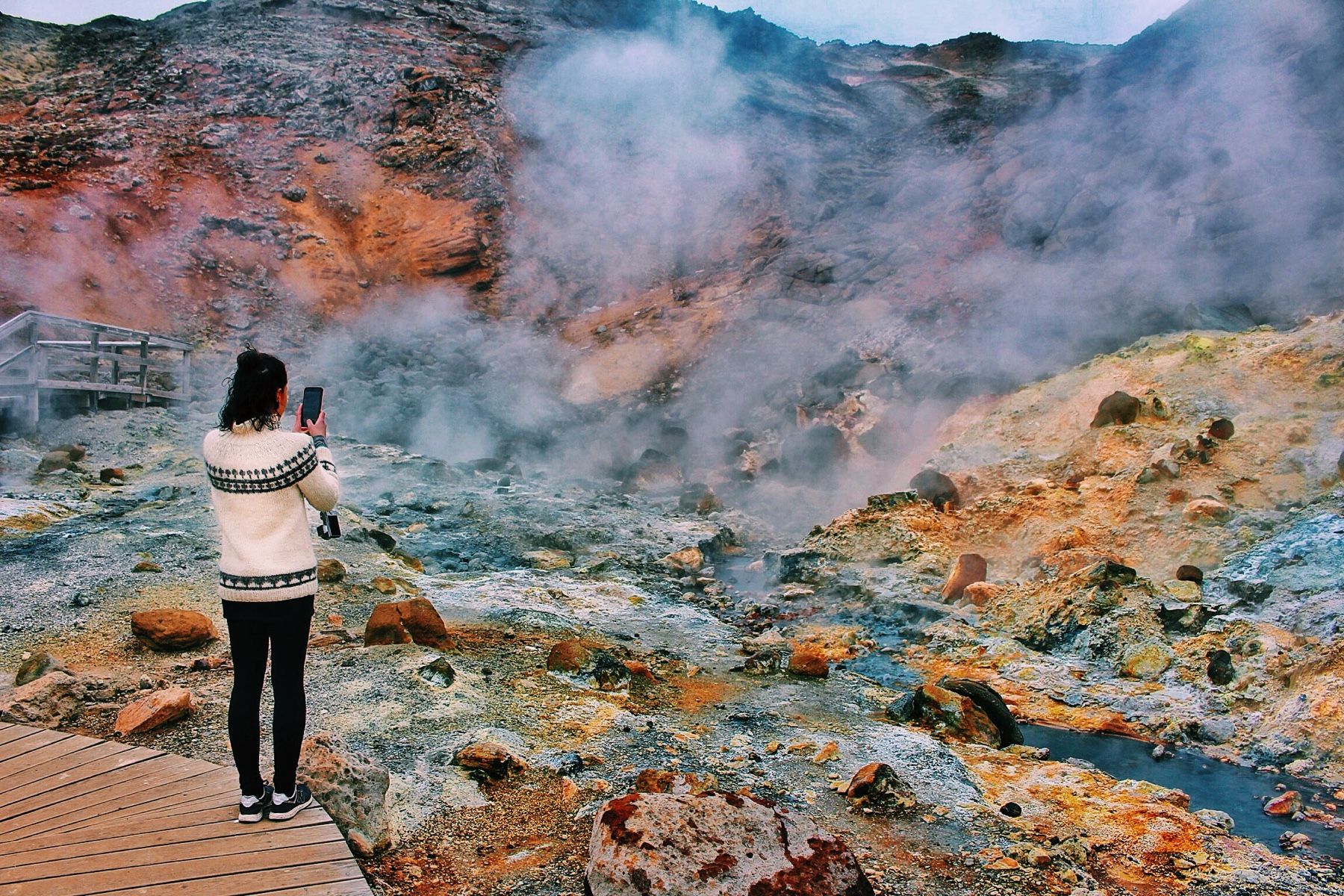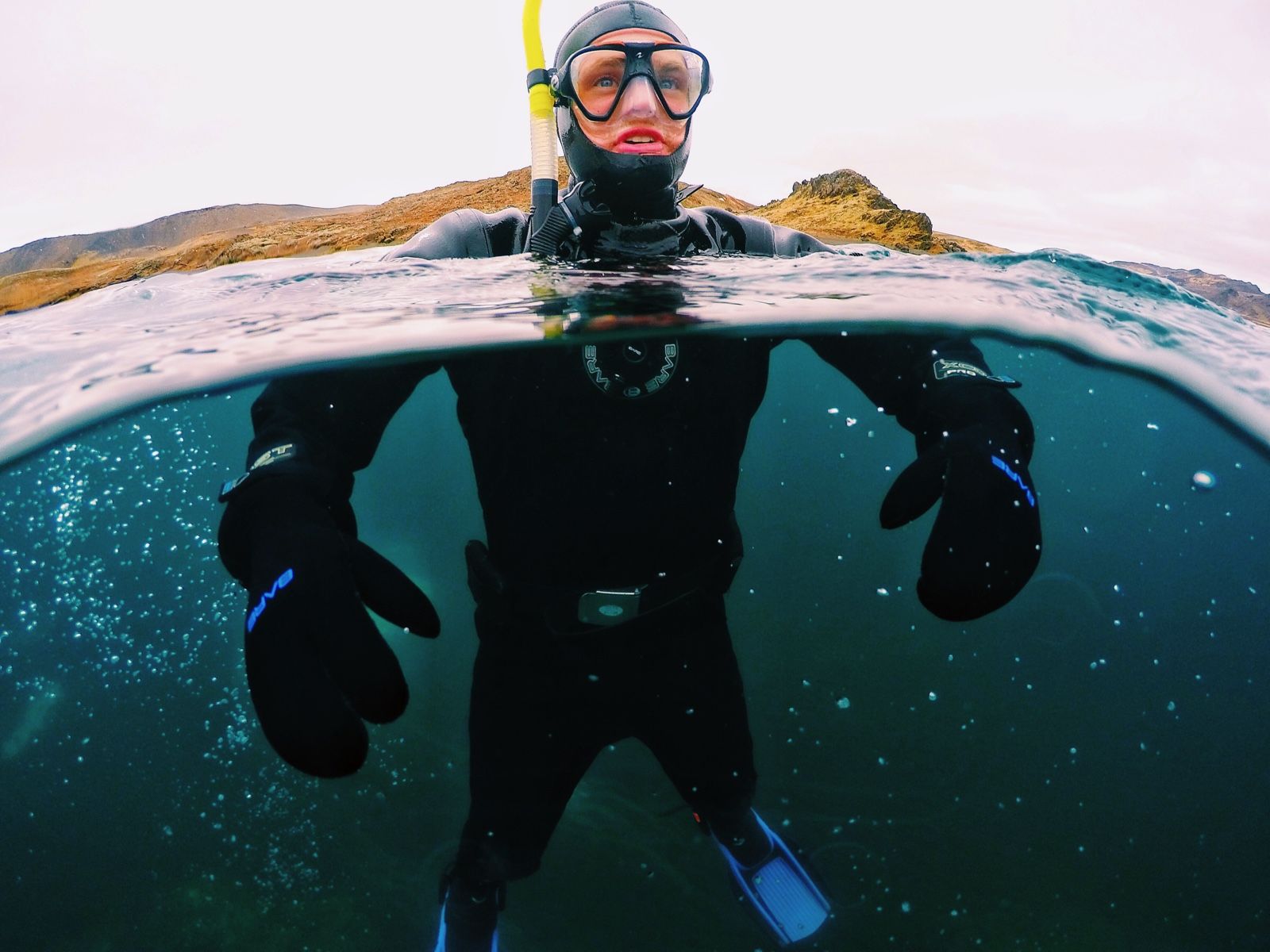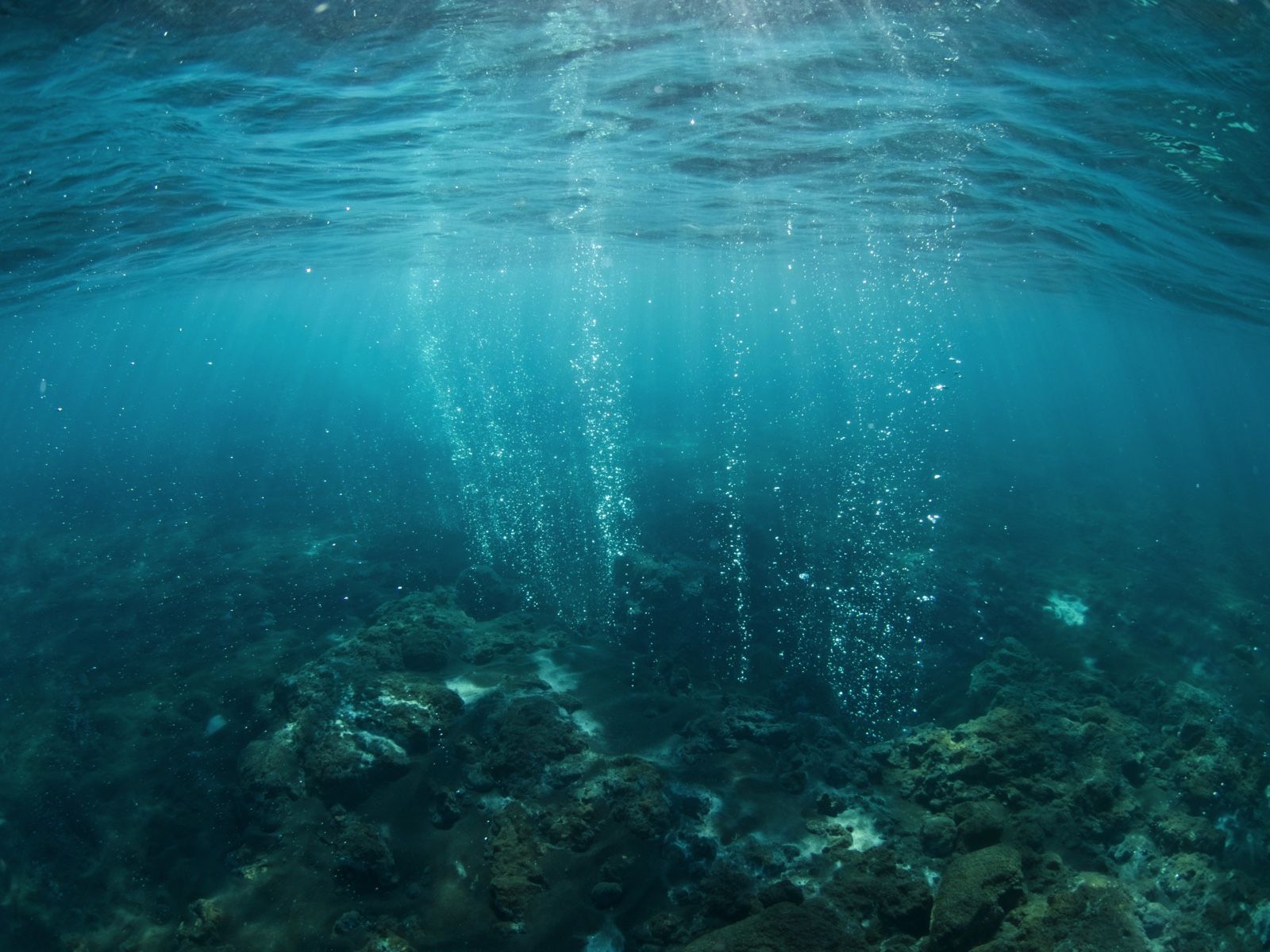 You might be guided by one of these nice guys