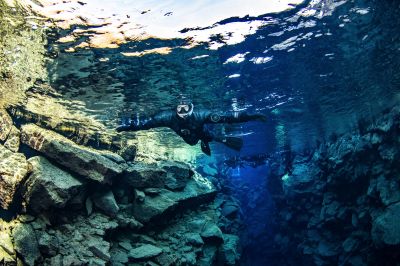 Private Snorkeling Silfra Day tour
Skip the line and go at a time that fits your needs
A private snorkeling tour in the clear waters of Silfra fissure. Avoid the crowds & go when you want. Available with or without pick up.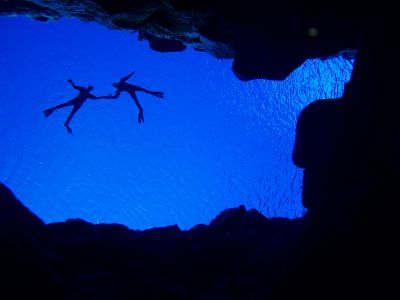 Silfra Schnorcheltour bei Mitternachtssonne
Geheimnisvolle und ruhige Schnorcheltour
Zwischen dem 15. Mai und dem 31. August bieten wir eine Nachmittagsabfahrt an, um in der Silfra unter der Mitternachtssonne zu schnorcheln. Der isländische Sommer ist eine fantastische und schöne Ze...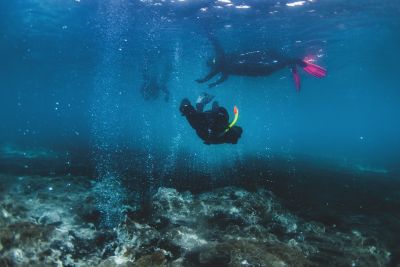 Private Snorkeling Hot Spring tour
A unique snorkeling experience
Unique snorkeling experience in the hot springs at Lake Kleifarvatn, Iceland. Avoid the crowds at a time that fits your schedule. Available with or without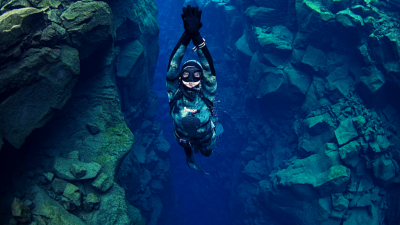 Private Silfra freedive tour
No certification needed
Freedive Silfra in wetsuits between the continents in the best visibility and with the best freedive gear available. With 100+ m visibility, Silfra is one of the TOP freedive places in ...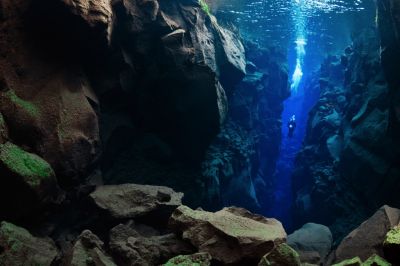 Private Diving Silfra tour w/ pick up
Skip the line and go at a time that fits your needs
A private scuba diving tour in the clear waters of Silfra fissure. Avoid the crowds & dive at a time that fits your schedule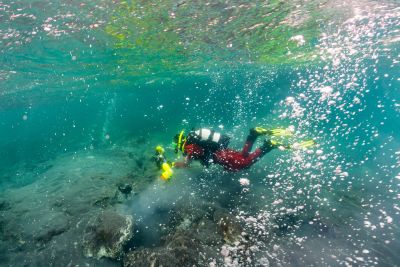 Private Hot spring tour w/ pick up
A bucket list dive
Dive in a glass of champagne among the hot springs at Lake Kleifarvatn, Iceland. Private tour with pick up and transfe
Frequently asked questions about our Private Tours
Gibt es irgendwelche Souvenirs?

Ja, wir bieten eine Vielzahl von Souvenirs von Silfra und DIVE.IS an, einschließlich Fotopaketen, T-Shirts, Pullovern, Hoddies, Hüten, Logbüchern, Postkarten und Aufklebern. Weitere Informationen findet Du auf unserer Souvenir-Seite. Wenn Du Souvenirs an der Silfra kaufen möchten, frag einfach den Reiseführer nach Informationen.

Kann ich an der Silfra Lebensmittel kaufen?

Leider werden an der Silfra direkt keine Lebensmittel verkauft. Es gibt jedoch ein Restaurant im Thingvellir-Informationszentrum, das nur 3,5 km von der Silfra entfernt ist.

When is the best time of year to visit Iceland?

Every time of year has its own benefits. It is least crowded in spring and autumn and you will often have a full range of activities available to you, but with less people than in summer, which is of course the busiest season here in Iceland. Winter has its own beauty and should not be dismissed, although it is not for the faint hearted as the weather can get quite extreme, and you would need to be flexible with your plans as tours can end up getting cancelled due to the weather. It is however the time for Northern Lights, so pros and cons as always. Please also be aware that winter lasts much later into the year than in most countries and there is often still snow in March and April. From a dive and snorkel point of view, it makes little difference which of the seasons you visit as our groups are small and the dive sites, visibility and marine life are pretty constant through out, varying more from day to day, than from season to season. The ocean temperatures are warmest, however, in summer and fall – about 8-12°C. For our other dive sites, such as our geothermal site and some of our other inland sites, are also warmest in summer and fall, although at a lower temperature, 6-8°C. Silfra however retains a constant temperature of 2-4°C.
View all FAQs
You might be interested in