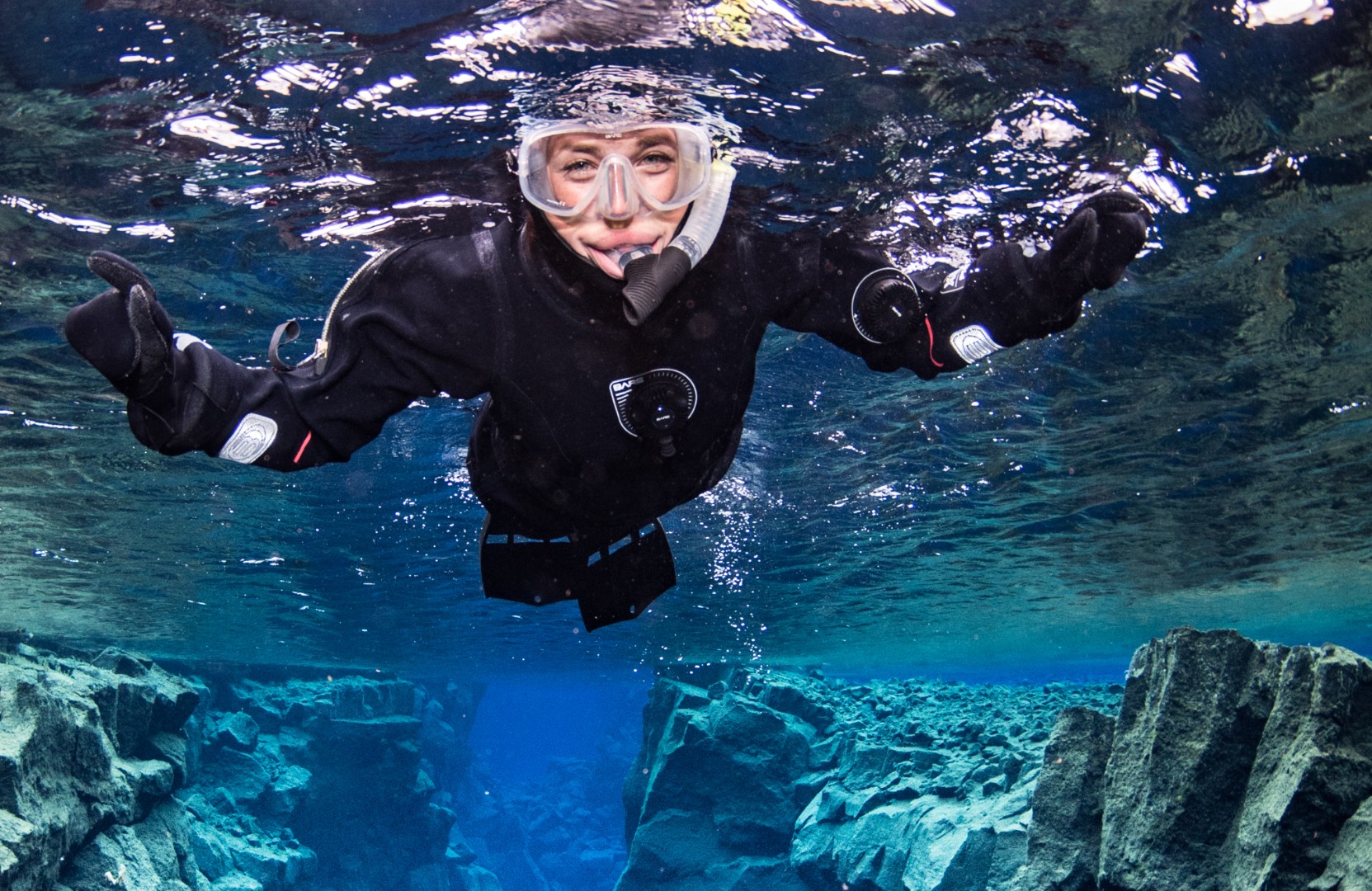 Snorkeling in glacial water, paddleboarding on a geothermal lake
As unbelievable as it sounds, we make it happen!
Silfra is one of the most popular attractions in Iceland and it is located in the Thingvellir National Park, just a short drive away from Reykjavik. This makes it a great sightseeing stop on your Golden Circle route but, if you want to take it easy and enjoy it for a bit, Silfra also offers a great opportunity to do a fun activity. Our Silfra Snorkeling Tour is an amazing activity for groups and families and we take it up a notch by adding a unique paddleboarding adventure on the Laugarvatn geothermal lake.
Did you know that everyone can snorkel, you do not need certifications, only to know how to swim. All snorkelers get a warm undersuit and a drysuit so everyone is dry and warm during the snorkel trip. Age limit is 12 years old so bring your teens to Silfra with you.
This snorkeling tour with DIVE.IS was chosen the best snorkeling trip in the world and the 4th best experience in the world on Tripadvisors' Travelers Choice list in 2019.
Start off your day by meeting your guide at the Silfra meeting point. Here, our experienced guides will welcome you, give you a detailed briefing of the activity and help you gear up with the high quality equipment we provide. All you need to bring is a base layer of warm clothes, preferably long thermal underwear. We will provide you with a thick, fleecy undergarment and a dry suit, as well as mask, snorkel, fins, hood and gloves.
Once you are in your dry suit, you will make your way to the entry platform - a metal staircase that allows you to enter the water slowly and safely. Your snorkeling tour will take about 30 minutes, during which you will explore the four main sections of Silfra: the Big Crack, the Hall, the Cathedral and the Lagoon. You will have enough time to take in the fascinating underwater scenery, made up of rock formatins and colorful algae (in the summer).
After the snorkeling tour, you wil make your way back to the meeting point, where your guide will help you get out of your dry suit and offer you hot chocolate and cookies to warm up.
At this point, it will be time for you to drive for about 30 minutes to reach lake Laugarvatn and the meeting point for your paddleboarding tour.
Laugarvatn is a charming little village immersed in stunning landscapes and characterized by the intense geothermal activity that has made it a popular bathing spot since ancient times. The flat and shallow waters of lake Laugarvatn are the ideal setting for your paddleboarding experience, whether you are a beginner or an expert. All the necessary equipment will be provided by our trusted partners and their guides will also give you detailed instructions to ensure you have an enjoyable experience. The most adventurous participants will also get the chance to experiement and have fun always under the supervision of their experienced guides.
This is an excellent opportunity to enjoy the surrounding scenery from an unusual point of view.
We think this tour is the perfect adventure for any group. We always take a maximum of 6 snorkelers into the water at a time, but for larger groups we can coordinate the groups of 6 so that everyone is done at approximately the same time. With the most experience in showing Silfra to our guests out of any tour operator in Iceland, we know how to make sure things go smoothly!
This tour can be tailor made to fit the needs of your group

Snorkeling tour: 2.5 hours - Paddleboarding tour: 1.5 hours (add 30 minutes drive between Silfra and lake Laugarvatn)

All year round, daily. Available on request, we will find the best time for your group.

Max 6 snorkelers per snorkel guide, but we can accommodate multiple groups of 6

Maximum 8 people per paddleboard guide

Free photos with all group tours

Price is based on 18+ people

Contact us at dive@dive.is for details and bookings
Included:
Highly trained snorkeling guide and paddleboarding guide
Guided snorkeling tour
Guided paddleboarding tour
All necessary snorkeling and paddleboarding equipment
Hot chocolate and cookies between snorkeling in Silfra and paddleboarding
Entrance fee into Silfra
Not included:
Transporation (we can make you an offer for food and/or transportation if needed)
Please bring:
Long underwear
Thick socks
Suitable clothes for the weather of the day
Contact lenses if you wear glasses
Bookable extras:
Lunch at our restaurant in the woods
Entry to The Cave People exhibition
Safety requirements
For their safety, all participants must:
have read, signed, and followed directions on the online Snorkeling Silfra Medical Statement (link provided in confirmation email) PDF

have our Snorkeling Medical form signed off by a doctor if they are age 60 or older (page 2) PDF

sign our liability release form at the start of the snorkeling tour PDF

be at minimum 150cm / maximum 200cm

be at minimum 45kg / maximum 120kg

fit within our dry suit size chart PDF

be at least 12 years of age on the year and at least 45 kg / 99 lbs

be comfortable in the water and be able to swim

be physically fit

be ready to wear a sometimes tight & constricting dry suit

be able to communicate in English

not be pregnant