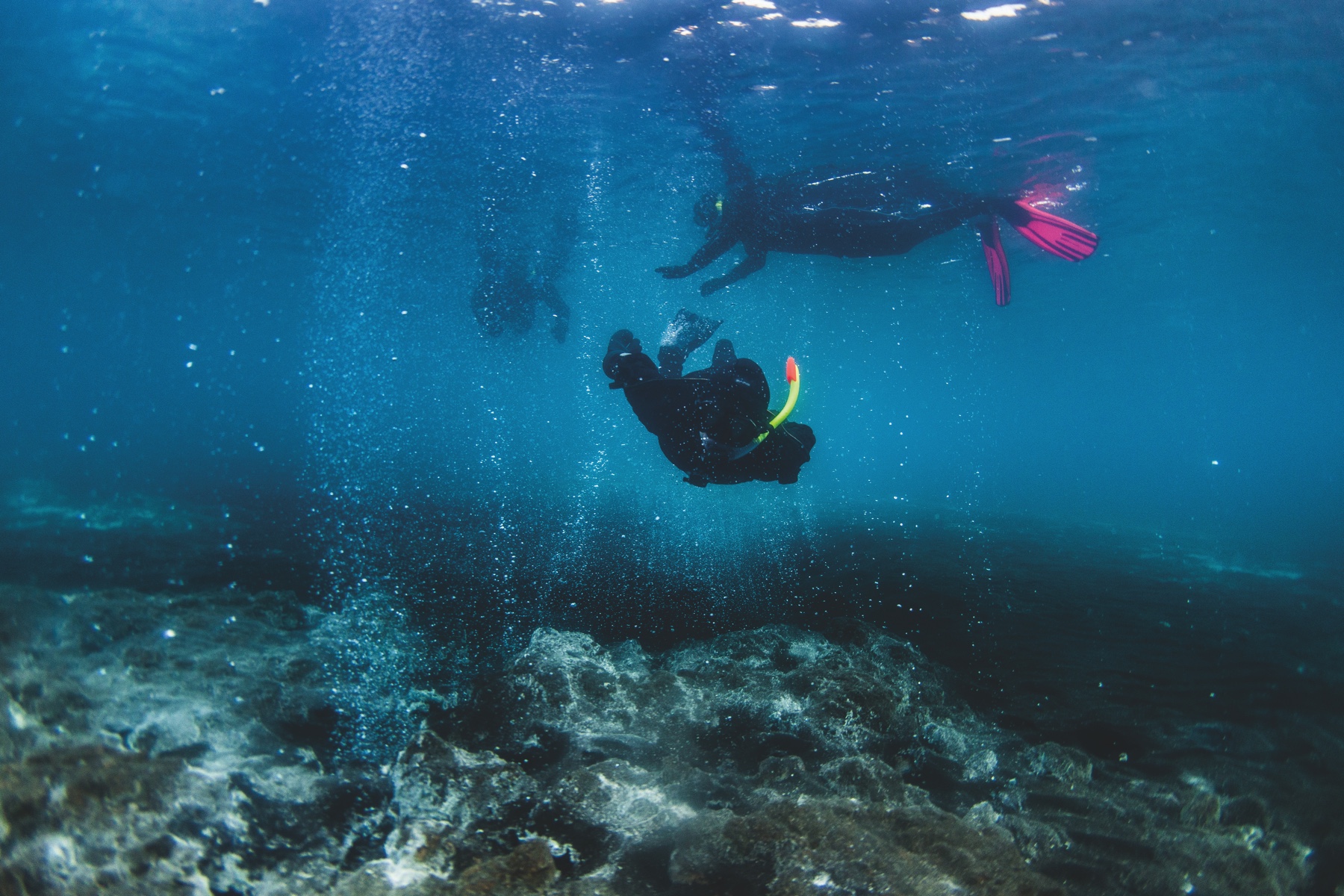 Snorkeling in a hot spring
We take you where only few have been before
Lake Kleifarvatn offers the rare possibility to go snorkeling in an active hot spring. Hot springs are normally way too hot to even get close to them, but not this one! What looks like just a regular lake, hides an unbelievable surprise just a few meters under the surface.
Nestled within an extraordinary volcanic landscape a short drive from Reykjavik, lake Kleifarvatn strikes the visitor thanks to the surrounding hills, its surreal silence, its black sand beach and the sulfur smell that is typical of this area. Only a few minutes away from the lake you find the Krýsuvík geothermal area, where you can walk among the boiling mud pots and witness the power of Mother Nature.
The Krýsuvík car park is our meeting point. Your snorkeling guides will be waiting for you there and then will drive you closer to the black sand beach that surrounds the lake. Once there, we will take a short hike (about 800 meters) from the car to the actual departure point on the beach.
On the beach you will suit up in your snorkeling gear with the help of your guide, who will also give you a detailed briefing of the activity and of the area.
As you enter the water, you will notice right away the white and yellow sulfur deposits and the colorful swirls they create on the bottom of the lake. After swimming about 50 meters away from the shore, you will start seeing the gas bubbles shooting up from the sandy lake floor. The environment around you will change sensibly. It is hard to describe the feeling, but someone said it's like swimming in a glass of champagne...
After about 30 to 40 minutes, we will swim back to the shore. Once out of the water, your guide will help you take off your gear and they will offer you hot chocolate, cookies and some traditional Icelandic refreshments.
Your guides will then drive you back to the Krýsuvík geothermal park and we recommend that you take some time to visit the area and enjoy the unique landscape.
If you want to invite your group to dinner or a party, then the perfect location isAurora Basecamp which is just a stone's throw from Kleifarvatn and Leiðarendi. The Aurora Basecamp domes are unique and provide the perfect ending to this fun filled day.
This tour can be tailor made to fit the needs of your group

2 to 3 hours

Available on request from 1 May to 30 September, we will find the best time for your group

Price is based on 18+ people

Max 8 snorkelers per snorkel guide, but we can accommodate multiple groups of 8

Free photos with all group tours

Contact us at dive@dive.is for details and bookings
Please bring:
Long underwear
Thick socks
Suitable clothes for the weather of the day
Contact lenses if you wear glasses
Included:
Guided snorkeling trip
All necessary snorkeling equipment
Hot chocolate, cookies and some real Icelandic snacks after the tour
Not included:
Transporation (we can make you an offer for food and/or transportation if needed)
Safety requirements
For their safety, all participants mus
have read, signed, and followed directions on the online Snorkeling Medical Statement (link provided in confirmation email) PDF

have our Snorkeling Medical form signed off by a doctor if they are age 60 or older PDF

sign our liability release form at the start of the snorkeling tour PDF

be at minimum 150cm / maximum 200cm

be at minimum 45kg / maximum 120kg

fit within our dry suit size chart

be at least 12 years of age on the year and at least 45 kg / 99 lbs

be comfortable in the water and be able to swim

be physically fit

be ready to wear a sometimes tight & constricting dry suit

be able to communicate in English

not be pregnant