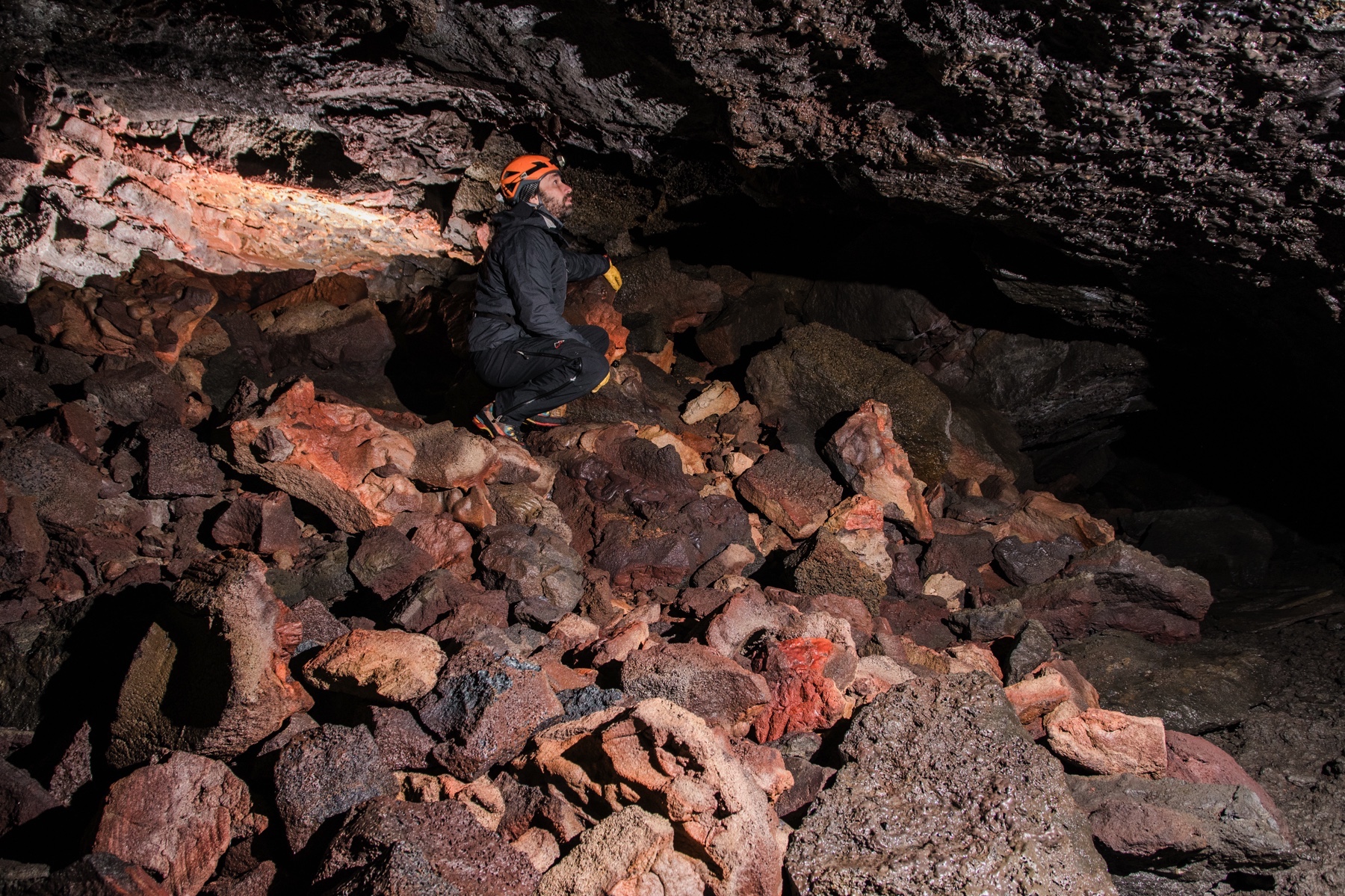 Hot Spring Snorkeling & Lava Caving
If you are curious to see the effects of Mother Nature's power, this is the tour for you. Prepare to spend a day immersed in the volcanic landscape of the Reykjanes Peninsula and to take in the sights that will make you feel like you are on another planet. We give you the chance to swim in a geothermal lake and enjoy its rare environment, after which you will explore a 2000-year-old lava tube. Not bad for a day out in nature!
Did you know that everyone can snorkel, you do not need certifications, only to know how to swim. All snorkelers get a warm undersuit and a drysuit so everyone is dry and warm during the snorkel trip. Age limit is 12 years old so bring your teens to Silfra with you.
Kleifarvatn lake offers a unique opportunity to swim in an actual hot spring. You will be sorrounded by the geothermal bubbles that shoot up from the lake bed, while enjoying the colorful sulfur swirls that animate the bottom of the lake.
Our Hot Spring Snorkeling Tour is like no other. Your expert guide will give you a detailed briefing of the activity and will help you gear up in the top-quality equipment provided. You will be fully dressed and sheltered from the cold by a dry suit and a thick, fleecy undergarment, as well as your own base layer.
The geothermal snorkeling tour takes about 40 minutes, after which you will be offered hot chocolate and cookies to warm up. We always take a maximum of 8 snorkelers into the water at a time, but for larger groups we can coordinate the groups of 8 so that everyone is done at approximately the same time. We have a lot of experience with guiding groups in Kleifarvatn, we know how to make sure things go smoothly!
The second part of this day takes place around the town of Hafnarfjörður, where we find the fascinating Leiðarendi lava tube. This extensive system of caves was formed more than 2000 years ago by the cooled down lava that flowed from the Sulfur Mountain volcanic system.
We will gear up in helmets and headlamps and then start descending into the lava tunnel from the opening in the middle of a lava field. Once down in the tunnel, our lamps will shed light on a mesmerizing scenery made of bright colors ranging from yellow to red and even purple. For about one hour we will move along the tube and observe the beautiful rock formations, stalactites and stalagmites that populate the cave.
This tour is suitable for everyone, but please keep in mind that there are parts of the cave where the ceiling is very low or the floor is unstable and we will have to bend down, squat or even crawl through. We highly recommend you wear sturdy hiking shoes.
If you want to invite your group to dinner or a party, then the perfect location isAurora Basecamp which is just a stone's throw from Kleifarvatn and Leiðarendi. The Aurora Basecamp domes are unique and provide the perfect ending to this fun filled day.
This tour can be tailor made to fit the needs of your group

6 hours

Available on request from April 1st to September 30th, we will find the best time for your group

Max 8 snorkelers per snorkel guide, but we can accommodate multiple groups of 8

8 cavers per caving guide

Free photos with all group tours

Price is based on 18+ people

Contact us at dive@dive.is for details and bookings
Please bring:
Long underwear
Thick socks
Suitable clothes for the weather of the day
Contact lenses if you wear glasses
Sturdy hiking shoes
Included
Guided snorkelling tour
All necessary snorkelling equipment
Guided caving tour
All necessary caving equipment
Light snacks after both tours
Not included:
Transportation (we can make you an offer for food and/or transportation if needed)
Safety requirements
All participants must:
have read, signed, and followed directions on the online Snorkeling Medical Statement (link provided in confirmation email) PDF

have our Snorkeling Medical form signed off by a doctor if they are age 60 or older PDF

sign our liability release form at the start of the snorkeling tour PDF

be at minimum 150cm / maximum 200cm

be at minimum 45kg / maximum 120kg

fit within our dry suit size chart PDF

be at least 12 years of age

be comfortable in water and be able to swim

be physically fit

be ready to wear a sometimes tight and constricting dry suit

be able to communicate in English

not be pregnant