Dive the Icelandic sea
On the Ocean Diver Day Tour you will join the undersea inhabitants of the North Atlantic for a swim through Iceland's cool coastal scene.
Our favorite local ocean dive site is Garður, located at the tip of the Reykjanes peninsula and a one hour drive from Reykjavik. Garður is a shore dive.
Kelp forests offer a great habitat for a number of marine species, including lumpsuckers, nudibranchs, and a wide variety of invertebrates. Colorful algae also flourish here off the coast of Iceland. You will most likely notice pairs of eyes sticking out of the sandy patches of the ocean floor where the flounders live. Soft orange coral also intermittently decorates the sandy ocean floor. In the area of the kelp forests, a wolf fish might pay you an unexpected visit or stick its head out of a pile of rocks, looking a bit like a prehistoric creature.
As on all our tours, we will pick you up at your hotel in the Reykjavik area and bring you back afterwards and offer you some light snacks during the dive break.
The pick up time of this tour depends on the tides. We usually want to end our second dive around the peak of the high tide.
Note that ocean dives in Iceland depend on the weather and it can happen that scheduled ocean dive trips have to be canceled due to unfortunate weather conditions.
If that is the case we usually have a plan B and can offer you other dive sites, such as Bjarnagjá, Kleifarvatn or Silfra that do not depend on the weather as much as the ocean.
Our Souvenirs can be purchased in your booking process by selecting them under "Extras". If the Souvenir you are looking for is not listed below please contact us or leave a comment in your booking and we will bring it on tour with us.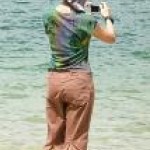 Dry Suit course + Ocean Diver Day Tour
On 29 and 30 July, we joined the dry suit specialty course and ocean diver day tour organised by Dive.is. Our instructor Patrik delivered everything with tact and professionalism. He was patient, thoughtful, helpful and detailed. The equipment was in very good condition... I'd like to express my heartfelt thanks to him and his supporting staff...
[...]
On the 2nd day, we did 2 extra dives. 1st one was near a pier and the 2nd one was at a crack near Keflavik. The weather was perfect with good sunlight, we had very good visibility in the 1st ocean dive... we were surrounded by big schoolssss of fish at dept 10m -15m, no wonder people went fishing here. Patrik held a buoy throughout the dive and acknowledged the fisherman at pier of our presence... as said, he's always thoughtful and put safety as top priority....
[...]
I love my experience in these 2 days, and in fact, I couldn't mention every single detail of how we individually were taken care of... I'd definitely recommend others to try out sth similar in the future!

6-8 hours

Minimum 2 participants

3 divers per dive instructor

1 April - 30 September
Included
Free hotel pick up and return in Reykjavik
Dive instructor
2 guided dives in the Ocean (if temperature drops below 0°C we do only 1 dive)
All necessary dive equipment
Hot chocolate and cookies in the dive break
Covid-19 safety precautions
We are a certified partner of the Clean and Safe initiative
Only 3 divers with a guide
Plenty of space to uphold the 2 meter rule
Mandatory mask use on our transfer bus and within 2m at location (if needed)
Customers bring their own COVID19 face mask
Hand sanitizer and disposable gloves are provided in our bus and at location
All equipment and vehicles are thoroughly sanitized after every tour
Please bring
Your SCUBA dive certification card (PADI Open Water or equivalent)
Proof of dry suit certification or 10 logged dry suit dives within two years of tour date
Long underwear
Thick socks
Suitable clothes for the weather of the day
A COVID19 face mask
Departures:
Departure time depends on the tides
This tour is depending on availability. Once we have enough participants, we will confirm the booking and send you a payment link for the total amount.
Safety requirements
All participants must:
be a certified diver at the level of PADI Open Water or equivalent

have dry suit diving certification and a logged dry suit dive within two years of the tour date OR have at least 10 logged dry suit dives within two years of the tour date and be able to provide written proof from a diving instructor of these dry suit dives PDF

have read, signed, and followed directions on the Diving Medical Statement PDF

have our Diving Medical form signed off by a doctor if they are age 60 or older PDF

sign our liability release form at the start of the diving tour PDF

be at minimum 150cm / maximum 200cm

be at minimum 45kg / maximum 120kg

fit within our dry suit size chart PDF

be at least 17 years of age (signature of legal guardian required for under 18 year old participants)

be physically fit

be ready to wear a sometimes tight & constricting dry suit

be able to communicate in English

not be pregnant
Meeting with your guide at your preferred pick up location
Short drive to the dive site (may vary depending on weather and tides)
Division into groups of 3 people, one group per guide
Briefing and gear-up with your guide (∼1 hour total)
Make your way to the entry point
Weight check upon entering the water
30-45 minutes spent in the water
Exit the water, change tanks, get ready for second dive (if the temperature drops below 0°C we will only do one dive)
30-45 minutes spent in the water
Exit the water, take off equipment, enjoy hot chocolate and cookies to warm up
At this point, you will have time to chat with your guide, ask any questions you might have and take a look at the pics taken during the tour
Drive back to Reykjavik with your guide