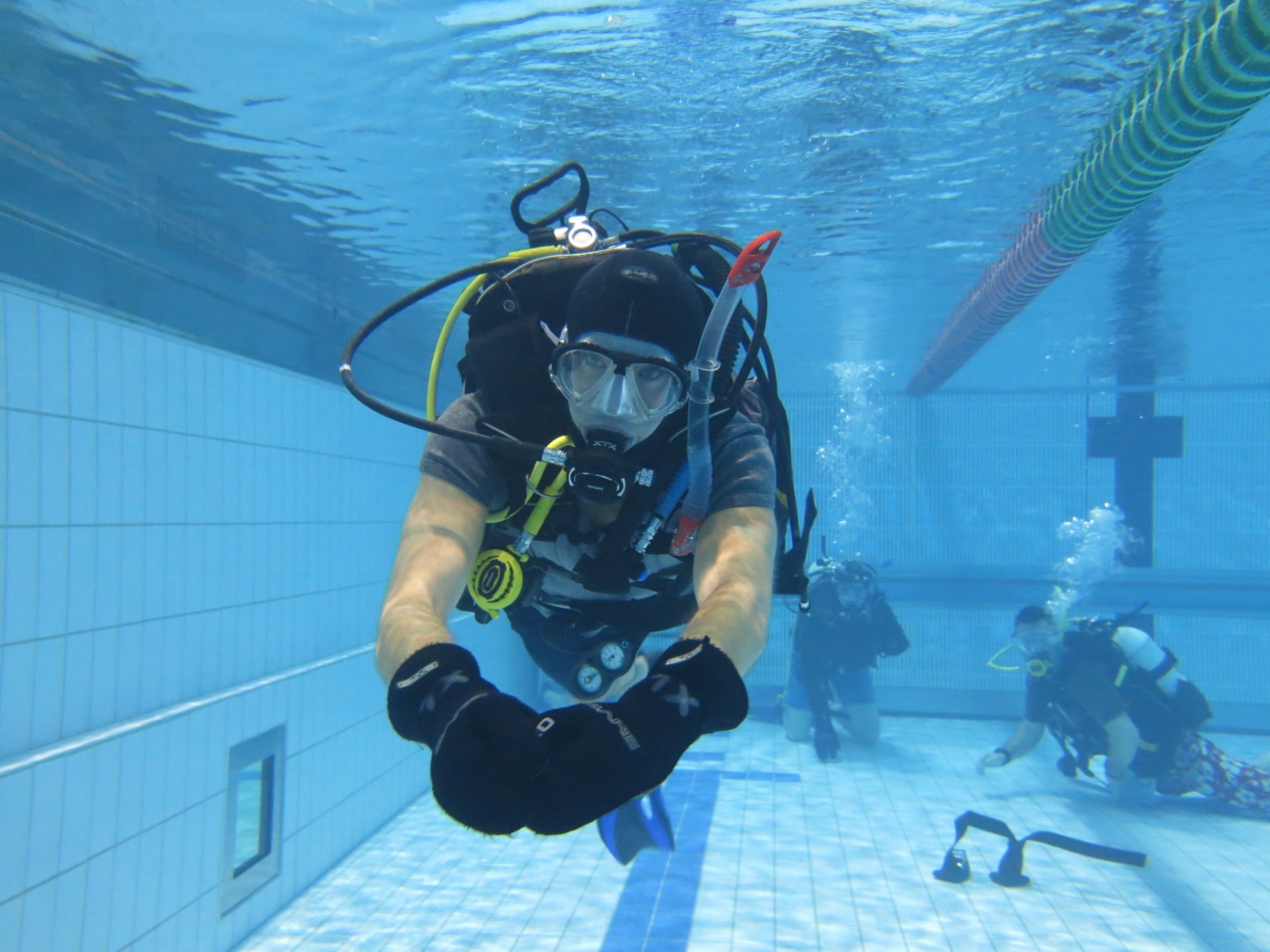 Learn scuba diving in Iceland in winter
DIVE.IS, Iceland's first and only PADI 5 Star Instructor Development Center welcomes you to learn diving from a new perspective. Take your PADI Open Water Diver course in during winter in Iceland.
Upon successful completion of the PADI Open Water course you will be certified to dive to 18m with a buddy, without direct supervision, anywhere in the world. This is a lifetime certification and it is recognized by any reputable dive centre. You will also be eligible to receive tank fills and participate in the PADI Diving Society.

At DIVE.IS we offer a 3 day PADI Open Water course in April - September when the light and weather conditions allow for long days of diving. However, this is not possible during the winter when the daylight and cold weather conditions do not allow long days. Therefore, we have put together the Winter course which takes 5 days over a period of 3 weekends. This also allows for you to pay separately for each weekend, or even each dive!
Here is how the winter course is set up:
1st weekend: E-learning Theory (Saturday early evening) and Confined Water Dives 1-5 (Sunday all day) at our dive center and a pool. This is the same as our PADI Open Water Referral course which means that if you would like to finish your dives in the summer or warmer climate you get a referral certification stating that you have completed the skills needed to continue.
2nd weekend: Dives 1 and 2, 1 dive a day.
3rd weekend: Dives 3 and 4, 1 dive a day.
Prices and how to book
1st Weekend: PADI Open Water Referral course: 34.990 ISK
2nd Weekend: Each dive: 29.990 ISK. If you finish both dives: 59.980 ISK
3rd Weekend: Each dive: 29.990 ISK. If you finish both dives: 59.980 ISK
You can book the first part of the course, the Padi Open Water Diver Referral the in the widget above. If you would like to pause after that first weekend, you have two options:
Finish your Open Water Diver certification in a warmer climate. You will get a signed form from your Instructor that you have successfully completed the Confined Water dives 1-5 so you can complete the course abroad! After you have completed the E-learning you have a one year window to complete your Open Water dives.
Finish the course when the regular season starts. You are welcome to sign up for a course in April-September and just pay the difference in amounts. Here is a link to our Open Water Diver course.
If you would like to continue to the 2nd and 3rd weekends, you simply contact us at dive@dive.is and we will book you in the next course that fits your schedule. You can pay as you go, prices for each dive are above.
Details about the PADI Open Water Diver course
In this program you will work closely with our instructors to learn the skills and theory necessary to dive safely and have fun doing it. You will develop confidence in the water using both skin diving skills and scuba equipment. You will also practice planning and executing dives up to 18m depth with a buddy.
What can I do as a PADI Open Water Diver?
Plan, organize and execute dives with a certified buddy.
Take excursion and training dives at dive centres and resorts around the world.
Receive air fills for scuba cylinders.
Register and participate in the PADI Advanced Open Water Diver course.
Register and participate in selected PADI Specialty Courses.
Register in and participate in the PADI Scuba Review.
What Will I Do?
The PADI Open Water Diver Course will cover theoretical modules via eLearning. This includes:
The Underwater World
Dive Equipment
Buddy Systems
The Dive Environment
Communication
Dive Planning
Problem Management
Dive Tables and Dive Computers
Navigation
To take part in the Open Water course you will have to complete a your theory learning independently using E-learning on the PADI website, which will take you through everything you need to know to become a safe diver. We will send you a link to your E-learning as soon as you book and pay for the course. Please note that going through the E-learning will take approx. 12 hours so we advice you to start studying a few days before your course starts. E-learning must be fully completed (including the exams) and submitted in the system before you start your pool session.
You will also complete four Confined Water dives and a Waterskills Evaluation at a local swimming pool (confined water session). These include the skills to learn as an entry level diver, a 200m non-timed swim and 10 minute float.
To complete your certification you will complete four Open Water dives over four days. Here you will practice the skills you have learned in the pool in both fresh and saltwater dive sites.
Summary: Upon completing the PADI Open Water Course you will have completed:
Five Knowledge Development segments, including quizzes and final exam
Confined Water Dives 1-5
Watermanship requirements: 200m continuous swim and 10 minute float
Open Water Dives 1-4
The winter course is scheduled to run over 5 days:
Day 1: eLearning Quick Review and Confined Water Session 1-5, 10 minute float and 200m swim
Day 2 and 3: Open Water Dives 1 & 2
Day 3 and 4: Open Water Dives 3 & 4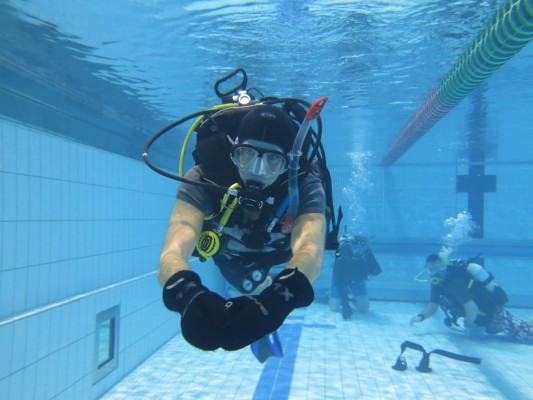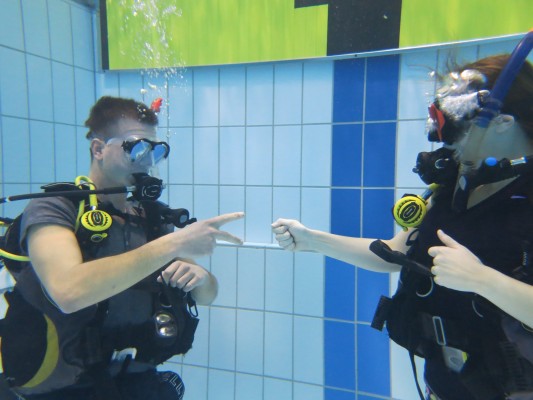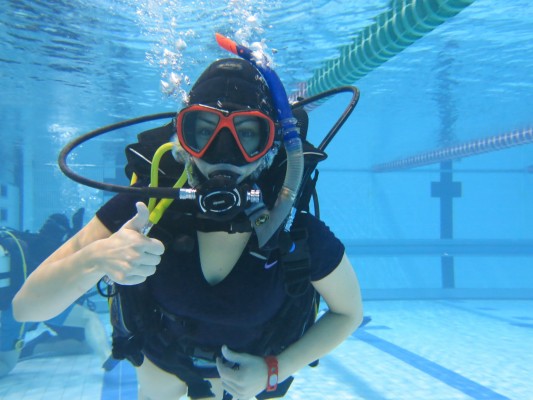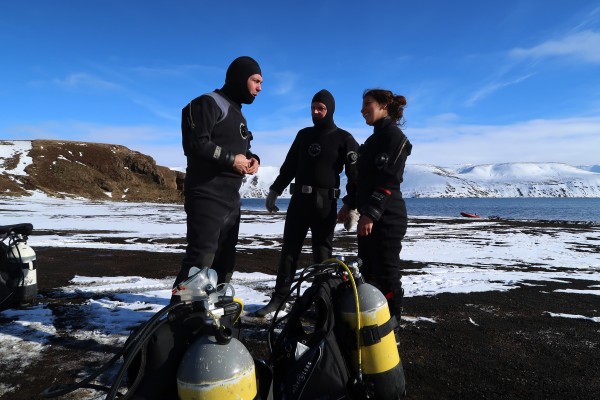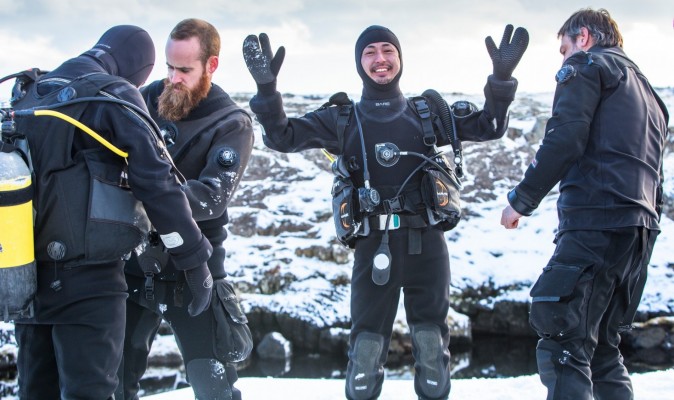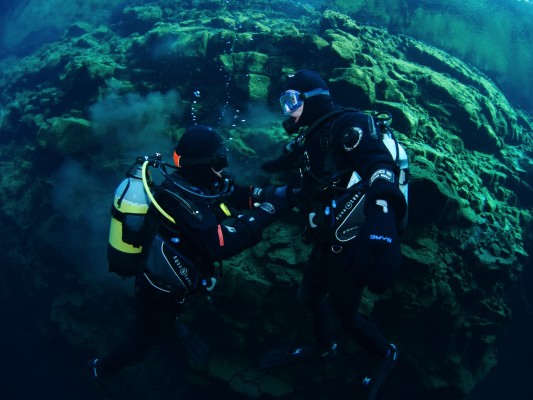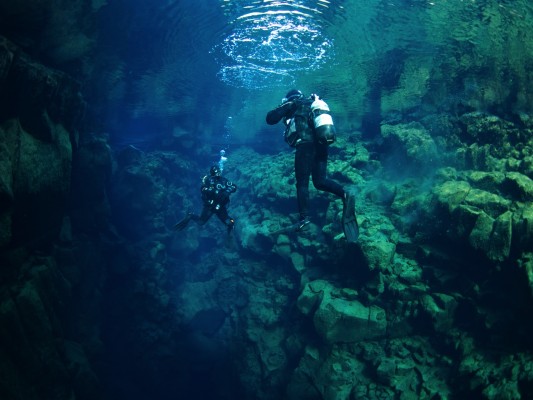 October - March. Also available on request

The course requires a minimum of 3 students. Max 4 students per Instructor.

Flexible payments, pay for each weekend separately

The price includes the eLearning registration fee, which we pay directly to PADI. The eLearning fee is approximately 10.000 ISK.

ATTN You will need to study for approx. 12 hours before the course begins

The course is 5 days over 3 weekends
Information about the course:
The first day of the course you will do confined water dives in a swimming pool in Hafnarfjörður. The other other four days will be done in a open water site that is most convenient at the time taking weather into consideration.
eLearning
You will need to finish all Knowledge Developments and exams online on the PADI website. This gives you the opportunity to complete all the theory at your own speed. It is very important that you finish this e-learning before day one at the pool.
Course schedule
Day 1: Going over the e-learning with your Instructor as well as doing the pool session. This session includes skills 1-5, 10 minutes floating and 200m swimming.
Day 2: Open Water Dive 1
Day 3: Open Water Dive 2
Day 4: Open Water Dive 3
Day 5: Open Water Dive 4
When you have completed the PADI Open Water Course you will have completed:
5 Theory parts about diving with tests and one final exam.
Confined waters in a pool session.
200m swim and 10min floating.
4 Open Water Dives.
Included:
Instructor with PADI certification
All equipment
PADI Open Water Course eLearning material
PADI certification fee
All confined water session and pool rental
All open water dives.
Pick-up and drop-off in Reykjavik on all 5 days
Remedial classes (if required) can be scheduled at additional cost.
Union Grants and Other Benefits:
Most unions in Iceland subsidize a part of the course fee for their members. We encourage you to find out your rights within your union.
If you are a high school or university student, the course may provide a certain number of credits that you can use towards your degree.
After your course, consider joining the DIVE.IS Dive Club to gain benefits including discounts on future courses and tours as well as equipment rental. Learn all about the Dive Club here.
Referral Course
It is possible to complete the course in two separate locations.
You can complete the first half (theory and pool) at home where you live and finish the Open Water Dives here in Iceland with us.
You can also do it the other way around and complete the theory and pool-work with us here in Iceland and do the Open Water Dives somewhere else.
Price for Part 1 (theory & pool): 34.990 ISK
Price for Part 2 (4 Open Water Dives): 119.960 ISK
NOTE: Students who would like to join us for Part 2 of of the Open Water Course must have done a confined water session in a dry suit. If students do not meet this requirement, a pool session in a dry suit can be added to Part 2 for 10.000,- ISK per student.
Most unions in Iceland subsidize a part of the course fee for their members. We encourage you to find out your rights within your union.
Safety requirements
be at least 17 years of age (signature of legal guardian required for under 18 year old participants)

be physically fit

know how to swim and be comfortable in water

be able to communicate in English

not be pregnant

complete a PADI Medical Statement
You might be interested in