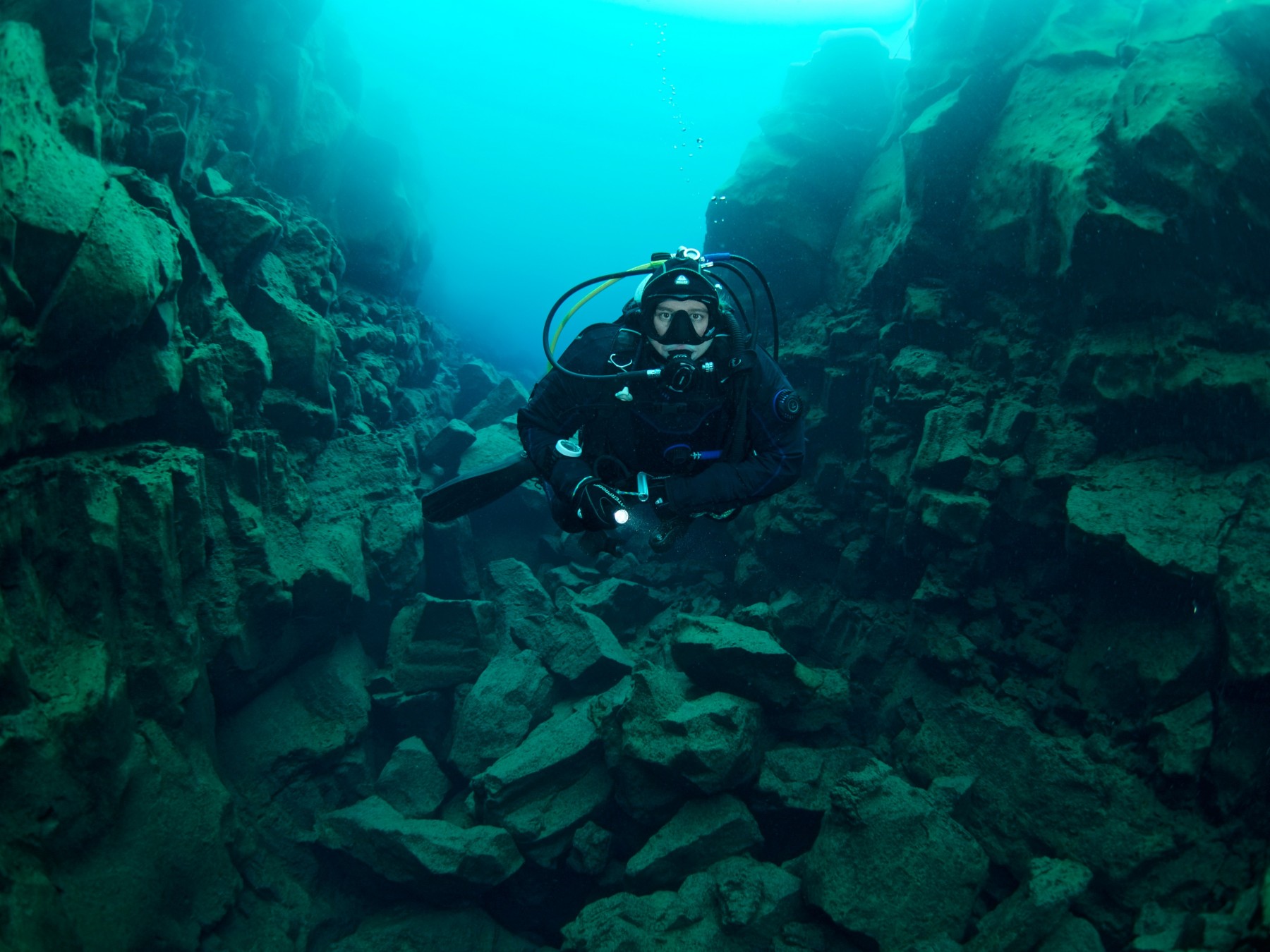 The real deal!
Now is the time to learn how to dive!
DIVE.IS, Iceland's first and only PADI 5 Star Instructor Development Center welcomes you to learn diving from a new perspective. Take your PADI Open Water Diver course in the pristine waters of Iceland and be better prepared for what comes next!
This deal gives you the opportunity to go from a complete beginner to a true Viking in just 4 days!
You will complete a PADI Open Water course and additional Dry suit Specialty course, this will be combined into one course so you can complete two in one! This means that we will certify you for two certification at once. We will end our awesome weekend by baptising you as Vikings in the famous bucket list divesite, Silfra!
The Open Water and Dry suit course will require you to do some skills both online and in the water, those skills inclue:
• The Underwater World
• Dive Equipment
• Buddy Systems
• The Dive Environment
• Communication
• Dive Planning
• Problem Management
• Dive Tables and Dive Computers
• Navigation
To take part in the Open Water course you will have to complete a your theory learning independently using E-learning on the PADI website, which will take you through everything you need to know to become a safe diver. We will send you a link to your E-learning as soon as you book and pay for the course. Please note that going through the E-learning will take approx. 12 hours so we advice you to start studying a few days before your course starts. E-learning must be fully completed (including the exams) and submitted in the system before you start your pool session.
Then it's only a quick review with your Instructor at the pool before we jump in the water and do:
• Confined Water Dives 1-5
• Watermanship requirements: 200m continuous swim and 10 minute float
Confined Water Dives are 5 in total, but relatively short dives conducted the same day. It usually taked 4-5 hours in a pool to finish all diving skills and watermanship requirements(200m swim and 10 mins float) and it´s usually done on Friday afternoon, before Open Water Dives over weekend.
The next two days we will do a total of 5 dives, 4 for the Open Water certification and one more for the Dry suit certification
They include performing the same skills already practiced in the pool and exploration of local dive sites. We try to include different dive sites to get more experience and to see more of uderwater world, but it depends on weather, tides and other factors as well.
We will then end this awesome weekend by diving in the amazing Silfra and become true Vikings!
The Viking package is also available in winter. The cost is then 35.000 ISK more per person as the course is taught over a longer period. Please contact us at dive@dive.is for further information.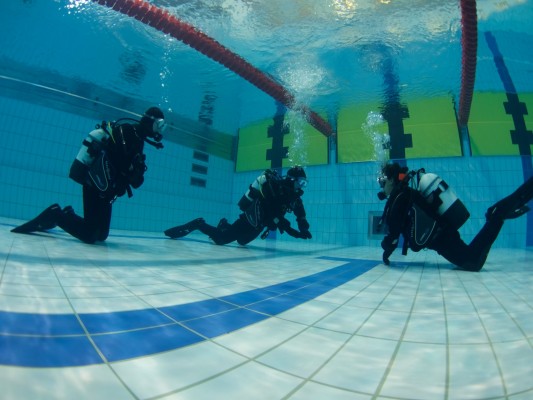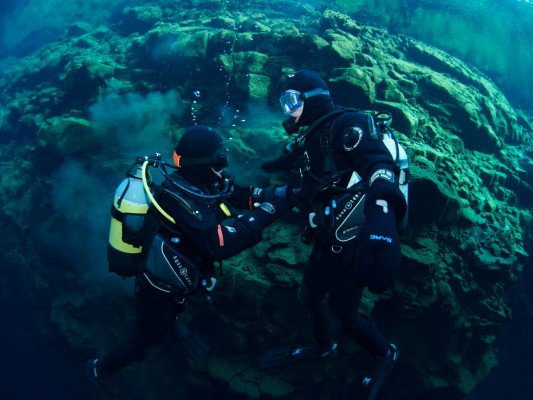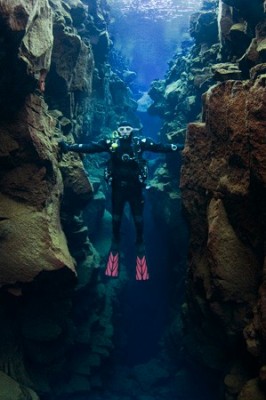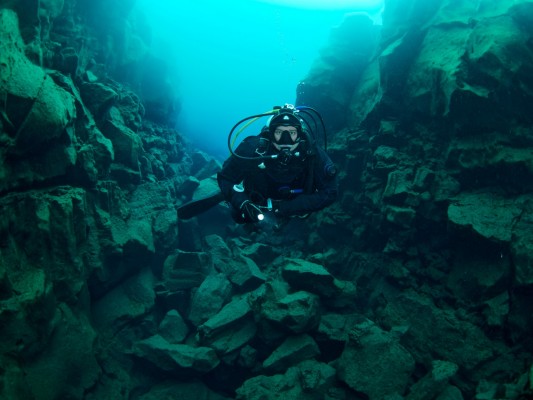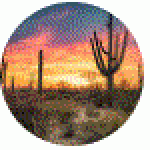 PADI open water + diving in Silfra
Me and my girlfriend have finished the PADI open water course + dive in Silfra.
Our man Rami was super understandable, chill and professional when it came to to the course.
Ant which was diving with us in Silfra was exceptional diver, with a lot of cool stories, he took care of our safety and made this trip unforgettable, Highly recommend whole experience, diving center and the guys especially!

April – October. Also available on request.

The Viking course is also available in winter. The cost is then 35.000 ISK more per person as it is taught over a longer period. Please contact us for further information.

The course is scheduled to run over 4 days.

The course requires a minimum of 3 students. Max 4 students per Instructor.

The price includes the eLearning registration fee, which we pay directly to PADI. The eLearning fee is approximately 10.000 ISK.

ATTN You will need to study for approx. 12 hours before the course begins
Open water course
First, choose a date for your Open Water + dry suit course
Diving Silfra tour - selfdrive
Then choose a date for your dive in Silfra if you would like to selfdrive
Diving Silfra tour with pick up
If you prefer pick up for your Diving Silfra tour then choose this option
Included:
Your PADI certified instructor
All equipment,
PADI Open Water Course eLearning material
PADI Dry Suit Course eLearning material
PADI certification fee
All confined water session and
Pool rental and admission
All open water dives
Pick-up and drop-off in Reykjavik on all 3 days.
Pickup for the Silfra Dive can be booked for additional fee.
Union Grants and Other Benefits
Most unions in Iceland subsidize a part of the course fee for their members. We encourage you to find out your rights within your union.
If you are a high school or university student, the course may provide a certain number of credits that you can use towards your degree.
After your course, consider joining the DIVE.IS Dive Club to gain benefits including discounts on future courses and tours as well as equipment rental. Learn all about the Dive Club here.
Information about this course
The first day of the course you will do confined water dives in a swimming pool in Hafnarfjörður. The other other two days will be done in a open water site that is most convenient at the time taking weather into consideration. The fourth and final day will be a dive in the famous Silfra.
eLearning
You will need to finish all Knowledge Developments and exams online on the PADI website. This gives you the opportunity to complete all online at your own speed. It is very important that you finish this e-learning before day one at the pool. As you are doing the Viking Diver Course please finish the Open Water one before you move to the Dry suit one.
Course schedule
Day 1: eLearning Quick Review, Confined Water Session 1-5, 10 minute float and 200m swim
Day 2: Open Water Dives 1 & 2
Day 3: Open Water Dives 3 & 4 - Dry Suit Dive 1
Day 4: Silfra Dive Tour
When you have completed the PADI Open Water and PADI Dry Suir Courses you will have completed:
5 Theroy parts about diving with tests and one final exam.
Confined waters in a pool session.
200m swim and 10min floating.
5 Open Water Dives.
Safety requirements
be at least 17 years of age (signature of legal guardian required for under 18 year old participants)

be physically fit

know how to swim and be comfortable in water

be able to communicate in English

not be pregnant

complete a PADI Medical Statement PDF
Loading YouTube Player...
You might be interested in