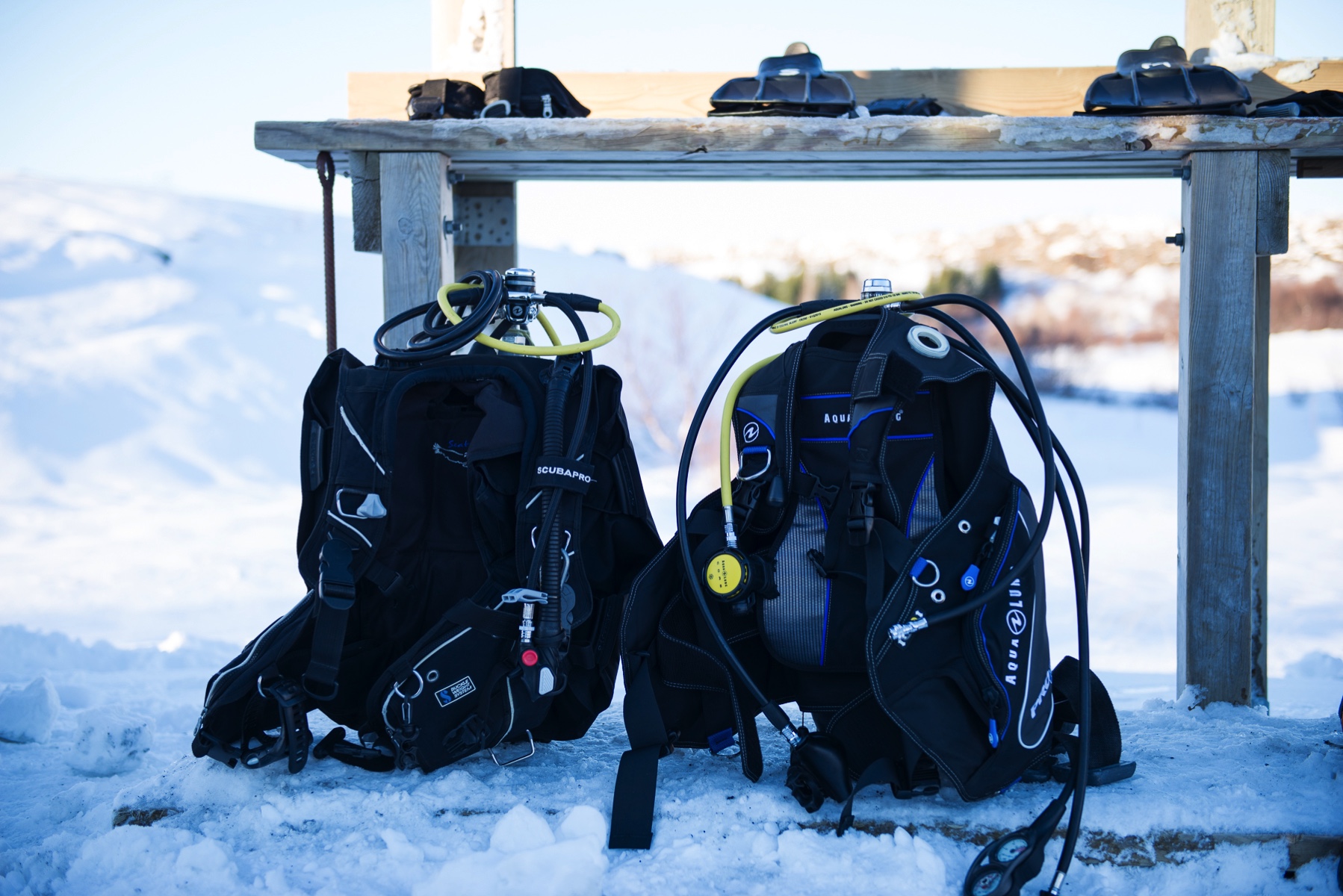 Scuba diving in Iceland is a unique experience that you will remember forever. However, Silfra is an extreme environment and it is crucial to be properly equipped before taking the plunge – pun intended.
The Silfra tectonic fissure
The Silfra tectonic fissure is filled with glacial water that has flowed underground for centuries, where lava rocks filtered it, leaving it crystal clear and as pure as water can get.
Coming from a glacier means that the water temperature in the crack is between 2°C and 4°C year-round, no matter the weather or the season.
Not to mention the average Icelandic temperatures in the southern region where Silfra is located – around 0°C in winter and 13°C in the summer. Click here to find more detailed information about the diving spot Silfra.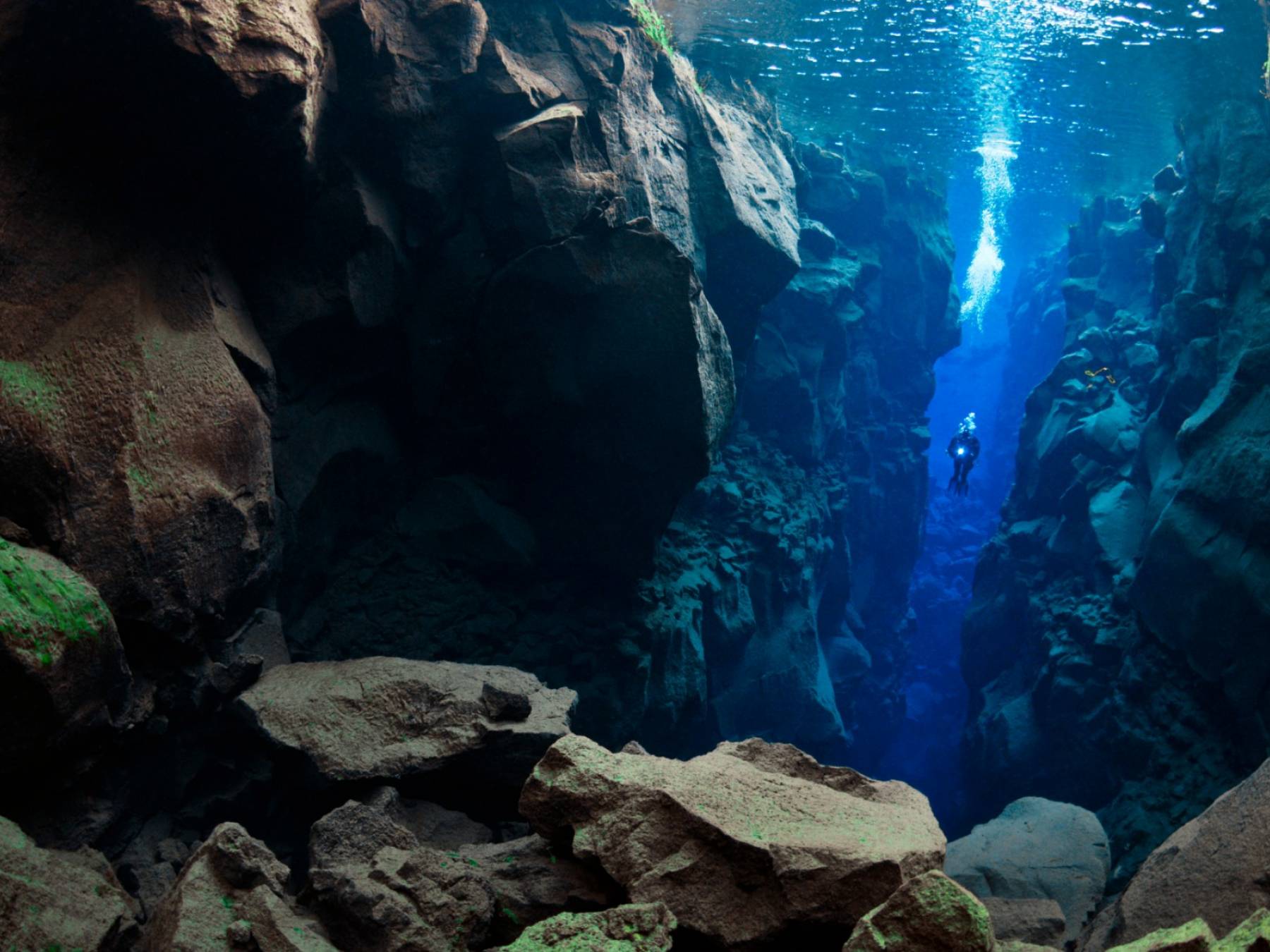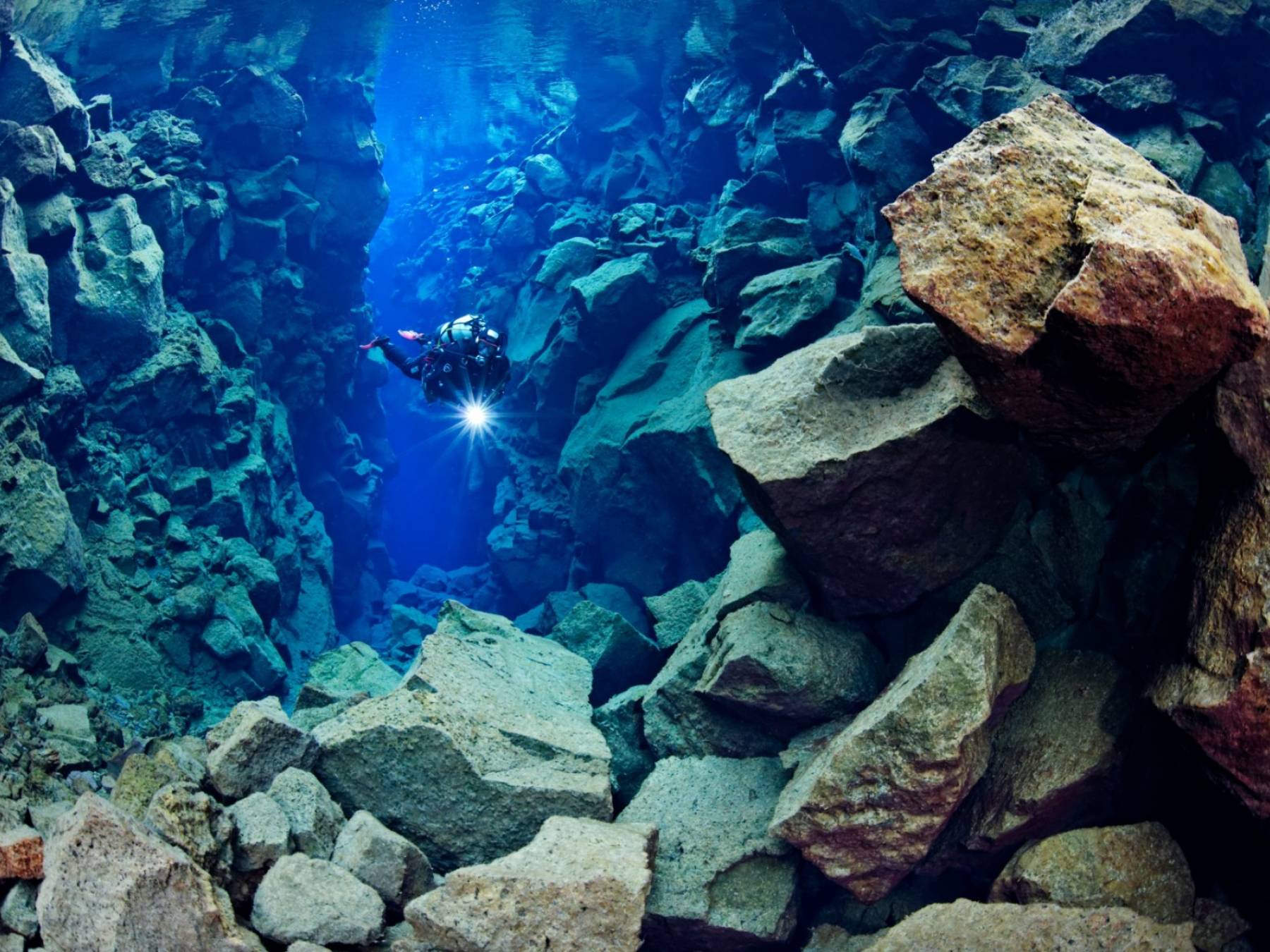 Scuba diving and snorkeling equipment for your tour in Silfra with DIVE.IS
Booking a diving tour or snorkeling tour with DIVE.IS means to entrust us to provide you with the best possible service and equipment. And rightly so!
Full equipment rental is included in the price of our tours and the only thing we need you to do is bring your own set of underlayers and clothes appropriate for Icelandic weather, for the time that you will not be in the water before and after your tour.
The dry suit for scuba diving and snorkeling in Silfra
We will provide you with a thick, fleece-lined undergarment. Sort of a onesie for adults, which will keep you nice and warm throughout your tour.
The layer you will wear underneath this undergarment can be any piece of clothing that keeps you warm and comfortable. Ski- and thermal undergarments are perfect, especially for a winter dive. However, leggings, sweatpants and running pants are also a very good choice.
The same applies to your top: a sweater, a long-sleeve thermal shirt or anything that will help retain your body temperature. You are welcome to wear two layers if you are especially sensitive to the cold temperatures.
We normally suggest avoiding jeans, as they are neither comfortable nor warm. Keep in mind that the dry suit is a restrictive piece of equipment and it can make it hard to move freely.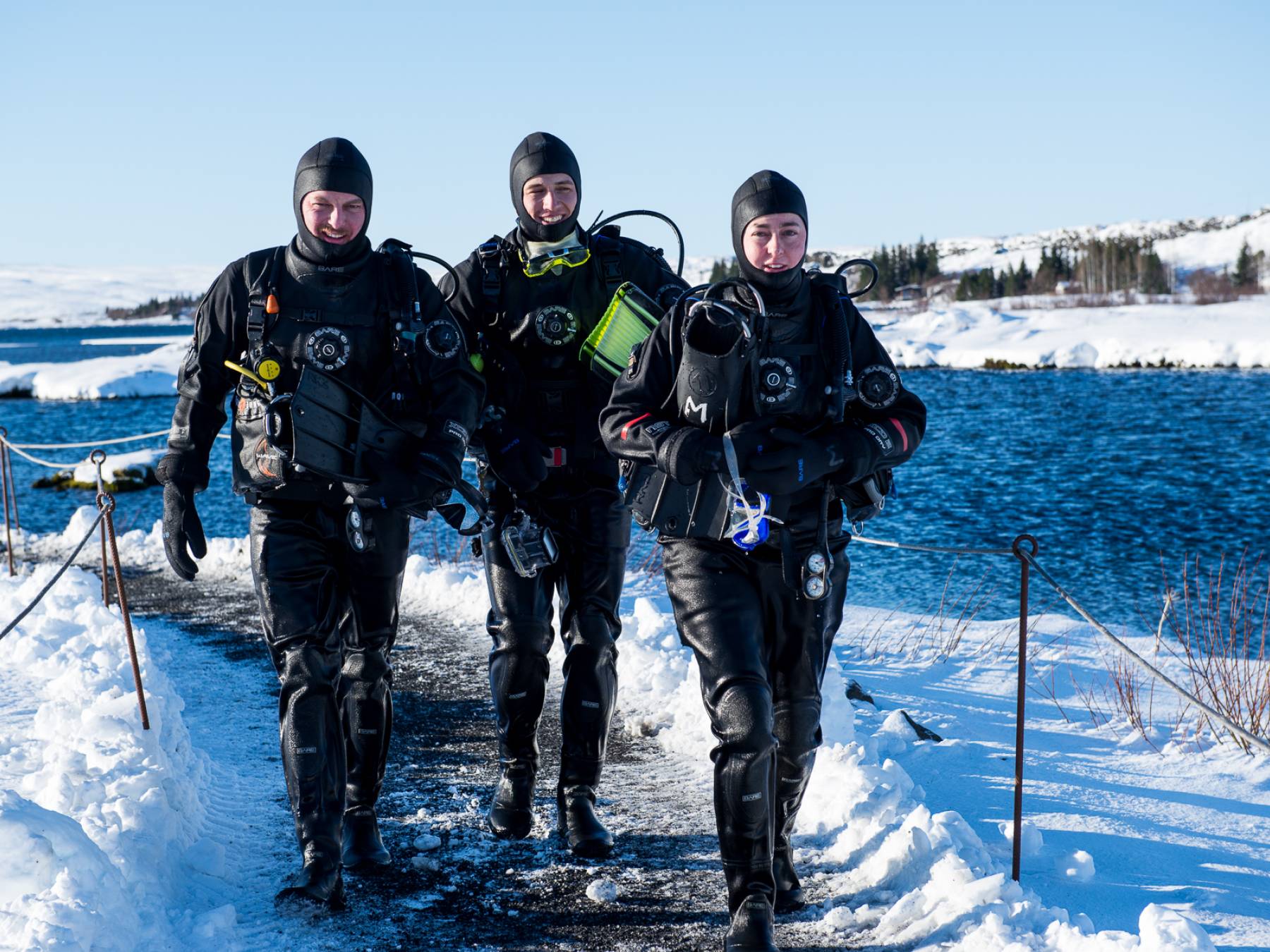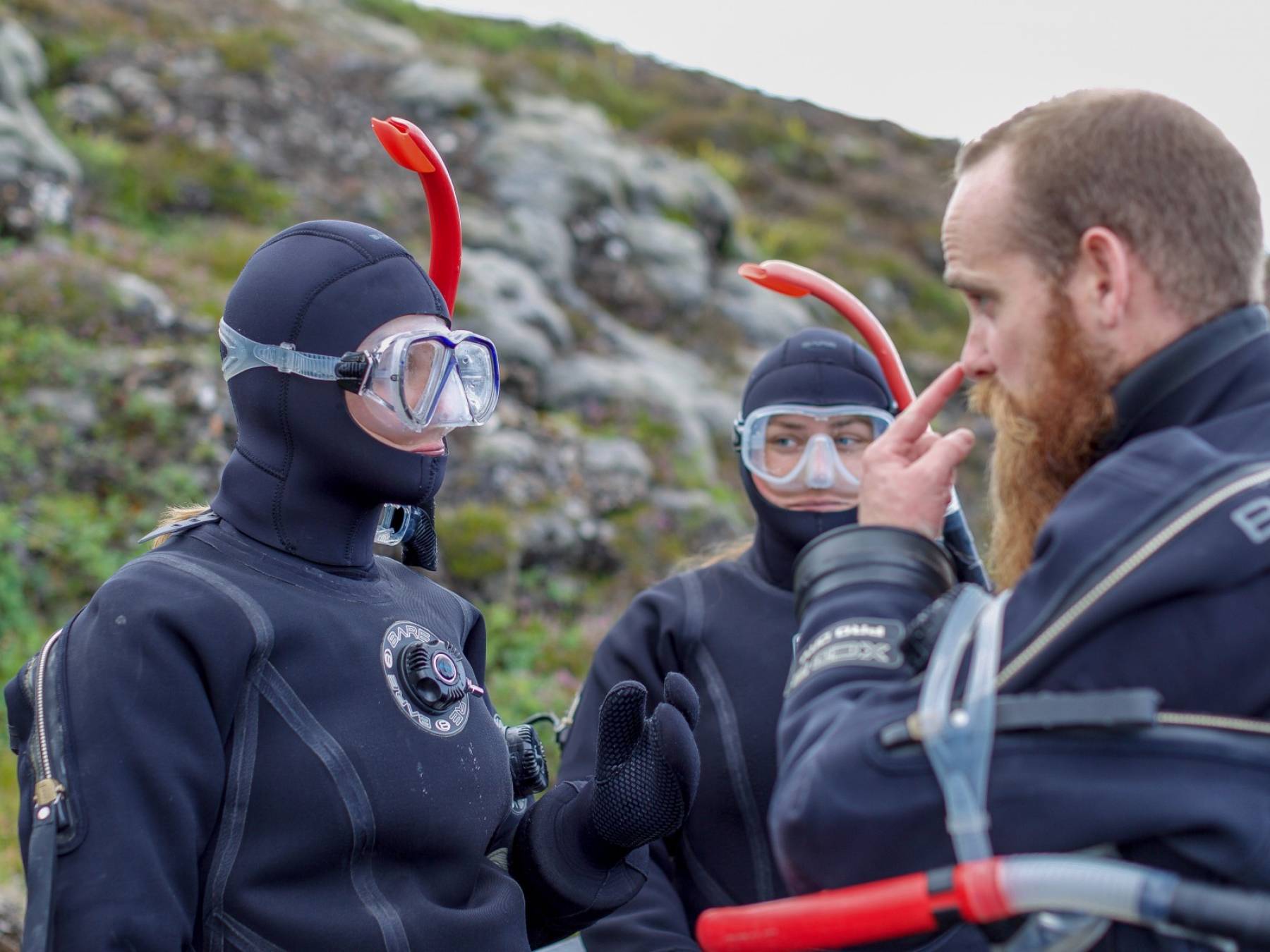 We recommend bringing an extra set of underlayers as well as two pairs of thick wool socks.
On top of your thermal layer and our undergarment, you will wear a dry suit. Your guide will help you get into it and they will show you the tips and tricks to get every part in its right place, to ensure you stay dry from the beginning to the end of your tour.
The dry suit has rubber booties attached to it and that's where your thick wool socks will come into play. The rubber doesn't keep you warm and the undergarment doesn't have feet. That's why it's really important to protect your tots with one or two nice pairs of socks.
The only things missing at this point will be your hood and gloves.
Keep in mind that these are the only non-waterproof pieces of equipment. Your hands will get wet and your hair will too, more so if you are diving. Snorkelers can expect a slight dampness on their head, given that they are floating at the surface and not entirely submerged.
Your guide will explain that the best thing you can do is to keep your fingers still in the gloves. This way, the water will fill up your gloves and slowly heat up to a bearable temperature thanks to your body heat. The more you move your fingers, the more water will flow in and out of your gloves, making it harder to keep warm.
The hood goes over your head and all around your face, covering your forehead and chin. This means that, once your mask is on, only your lips and a small portion of your face will be completely exposed to the water.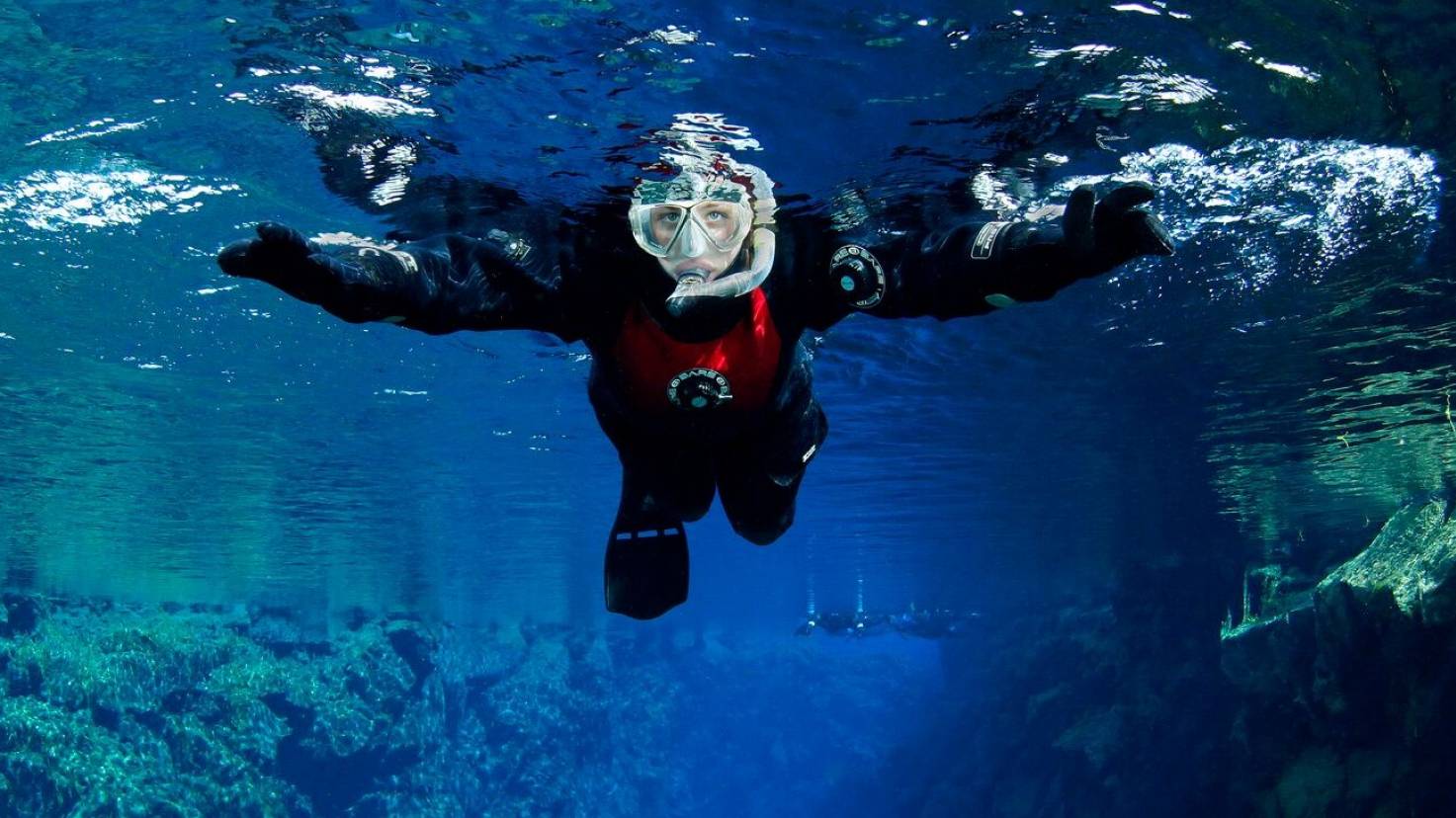 Once all of the dressing up is done, you will be ready to make your way to the entry point at Silfra. That's where, with the help of your guide, you will wear your fins, mask and snorkel just before getting into the water. Feel free to view our instructional video on how to wear a dry suit for diving in Silfra.
Scuba diving gear for Silfra
Here are the specifications of the equipment you can expect on your snorkeling tour:
Dry Suit: BARE XCD2 Pro Dry (compressed neoprene)
Undergarment: BARE C-200
Hood: BARE 7mm (neoprene)
Gloves: BARE 7mm (neoprene)
Mask & Snorkel: BARE / Aqualung / Cressi
The scuba diving equipment includes all the items listed above, plus:
BCD: Aqualung Wave or Aqualung HD Pro with integrated weight pockets (weight belt or harness available if necessary)
Regulator set: Aqualung Titan / Aqualung Core
Scuba tanks: 12 or 15 lt, single/double valve (steel)
All of our equipment undergoes daily cleaning and sanitation, as well as periodic maintenance done by our team of knowledgeable technicians.
We know that experienced drysuit divers often prefer to bring their own equipment on their diving vacations. However, you should know that we have some restrictions in place for your safety. For this reason, we kindly ask you to use the gear provided by us.
We hope this guide clarifies some of your doubts but, if you still have questions, you are welcome to contact us via the e-mail address dive@dive.is and we will be happy to give you additional information.
We are looking forward to taking you on your Silfra tour!