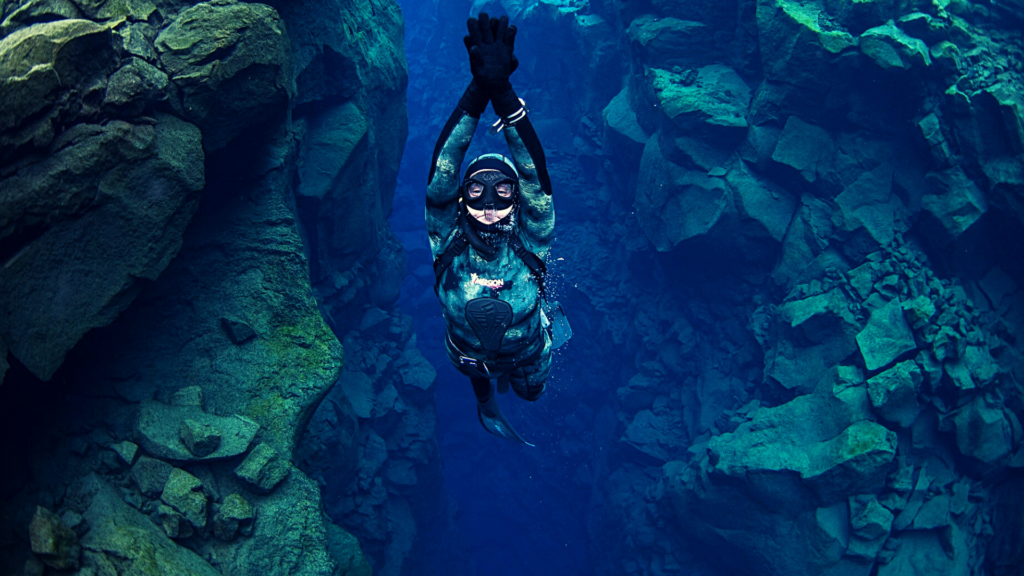 Freedive Silfra fissure between the continents in wetsuits with the best freedive gear available! Silfra fissure is one of the top freedive destinations in the world with 100+ meter visibility in the clearest water in the world.
You do NOT need a certificate to join this tour. Beginners and advanced freedivers welcome, you only need to know how to swim.
This private experience is for 1-6 people so you and your group can enjoy freediving in Silfra without other people.
You meet our partners at Silfra car park in Thingvellir National Park. All gear will be ready for you. You suit up and go over the safety information with your private guide, they will also go over some info about Silfra and the surrounding area.
You can stay in the water up to an hour with your private guide. After the tour, you can enjoy some cocoa drinks with us.
All year round, daily

4 hours

This activity does not require a diving certification
Included:
Private guide
All necessary gear required for freediving
Warm overcoats (dryrobes) before and after the dive
Entrance fee in to Silfra
Hot chocolate after the tour
Photos
Safety requirements
have read, signed, and followed directions on the online Snorkeling Silfra Medical Statement (link provided in confirmation email)

be at least 12 years of age on the year

be comfortable in water and be able to swim

be able to communicate in English
Loading YouTube Player...