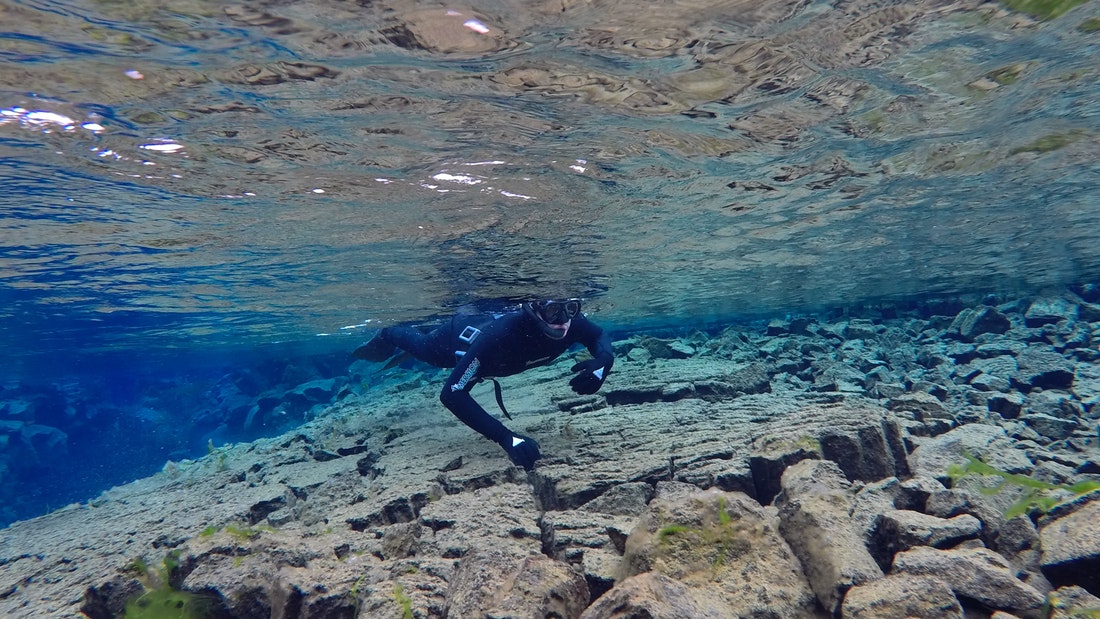 Silfra Night Freedive Tour
Explore Silfra's breathtaking scenery
Freediving Silfra at night - either in the bright summer night or under the dark winter sky - is a truly freeing experience. Your torch lights up the clearest water on earth, putting the spotlight on the dramatic scenes of the continental rift. The water is so transparent that it looks like air and you'll feel like you're floating weightless in an immense canyon. The late hour means that you're likely to have Silfra more or less to yourself.
Freediving means diving under the surface using a breath-hold technique instead of breathing air from a tank, as in scuba diving. In order to freedive, it is necessary to wear a wetsuit instead of a dry suit, as the dry suit fills with air and is too buoyant to go beneath the surface. Wearing a wetsuit means that you might get a little wet in the chilly water, but it also means that you are free to move around in the water as you wish.
You will be guided by a freediving expert through Silfra at your own pace. Your guide will explain the freediving technique and provide backgroud knowledge about Silfra before suiting up into the freediving gear. This tour does not require diving certification, although you do need to be a good swimmer. Feel free to ask your knowledgeable guide any questions, either about freediving or about Silfra and the surrounding area.
You will see all of the parts of Silfra, from the deep canyons to the endless lagoon during the approximately 40+ minute freedive. The fish in Thingvellir Lake often make their way into Silfra at night, and as you won't have any bubbles to scare them away, you might be able to get quite close to them! If you're coming in the winter, you might even be lucky enough to see the northern lights while you're in the water!
Please note that all tour participants need to sign the Silfra Medical Statement (see link below in the section "For Your Safety"). This tour is operated by one of our trusted partners specialized in freediving.
All year round, daily

Approx. 2 hours at the site / 4 hours with transportation from Reykjavík

Tour operated by Freedive Iceland
Please bring:
Swimsuit under freedive suit
Towel
Included:
All equipment needed for freediving
Entrance fee into Silfra
Warm overcoats (Dryrobes) before and after dive
Professional guidence
Hot cocoa after dive
Meeting at Silfra:
Please know that no transportation is available for this tour
Safety Requirements
be at least 16 years of age

have read, signed, and followed directions on the Silfra Medical Statement PDF

be min 45kg / max 130kg

be min 145cm / max 210cm

be able to swim

be physically fit

be ready to wear a sometimes tight & constricting wet suit

not be pregant