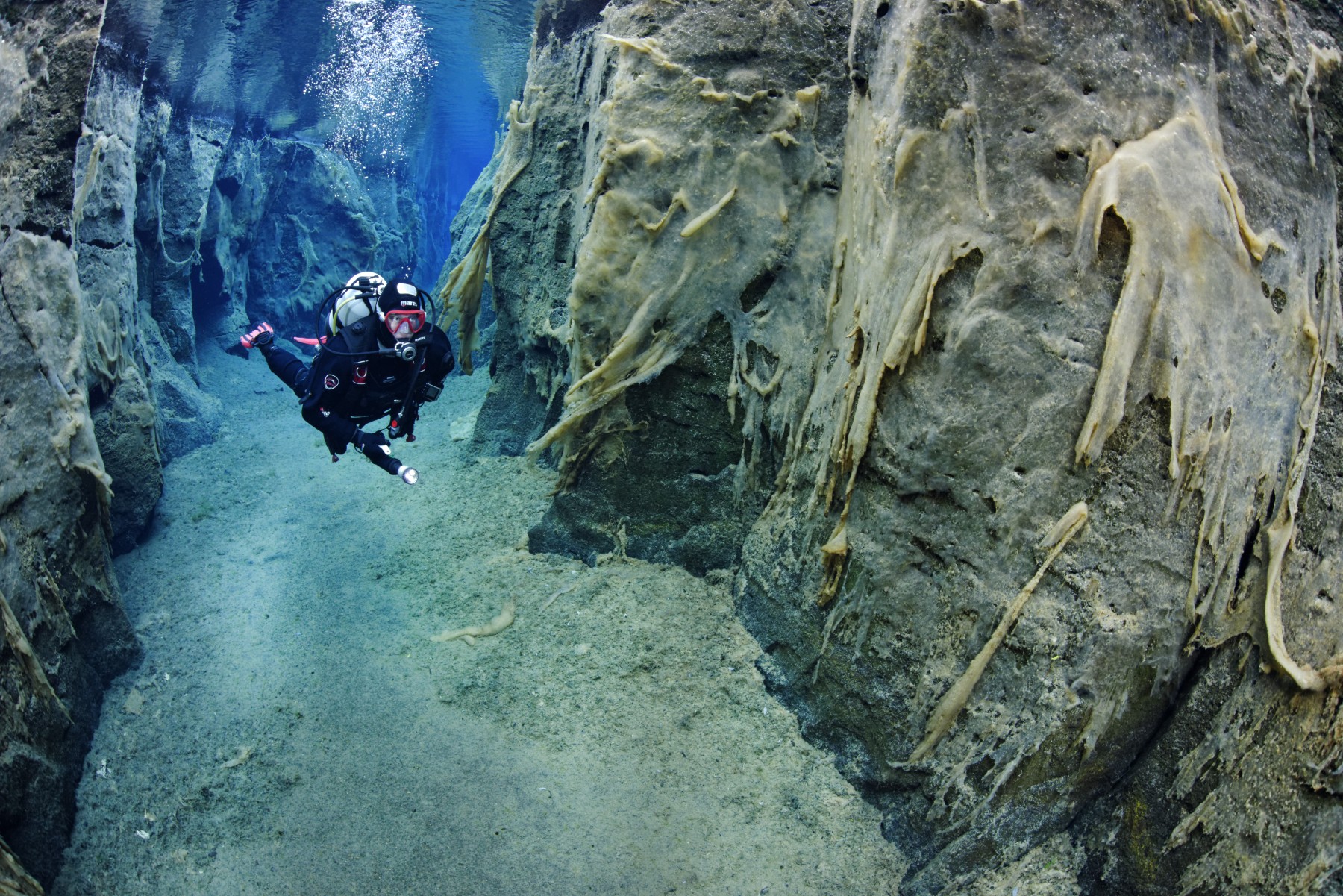 Frequently asked questions
Hvernig finn ég Silfru?

Silfra er í þjóðgarðinum á Þingvöllum sem er ó um 45-60 mínútna keyrslu frá Reykjavík. Þú getur fundið kortið á miðanum þínum eða HÉR eða einfaldlega skrifa Silfra Diving inn í Google Maps. Ef þú týnist ekki hika við að hringja í skrifstofuna okkar.or simply type Silfra Diving into Google maps.

Hversu langt er að keyra til Silfru frá Reykjavík?

Silfra er í um 60km fjarlægð frá Reykjavík og tekur það um klukkutíma að keyra, fer auðvitað allt eftir veðri. Ef þú ákveður að keyra sjálfur mælum við með að þú fylgir þessu korti á meðan þú keyrir. Silfra er staðsett á Þingvöllum. Þú munt keyra fram hjá leiðsögumönnunum og bílastæðinu við Silfru á hægri hönd, þú heldur áfram í nokkrar mínútur í viðbót að bílastæði P5 þar sem þú leggur bílnum og gengur svo til baka.

Hvenær er besti tími ársins til að heimsækja Ísland?

Every time of year has its own benefits. It is least crowded in spring and autumn and you will often have a full range of activities available to you, but with less people than in summer, which is of course the busiest season here in Iceland. Winter has its own beauty and should not be dismissed, although it is not for the faint hearted as the weather can get quite extreme, and you would need to be flexible with your plans as tours can end up getting cancelled due to the weather. It is however the time for Northern Lights, so pros and cons as always. Please also be aware that winter lasts much later into the year than in most countries and there is often still snow in March and April. From a dive and snorkel point of view, it makes little difference which of the seasons you visit as our groups are small and the dive sites, visibility and marine life are pretty constant through out, varying more from day to day, than from season to season. The ocean temperatures are warmest, however, in summer and fall – about 8-12°C. For our other dive sites, such as our geothermal site and some of our other inland sites, are also warmest in summer and fall, although at a lower temperature, 6-8°C. Silfra however retains a constant temperature of 2-4°C.
View all our FAQs
You might be interested in
Við notum vefkökur ('cookies') til að bæta upplifun þína á vefsíðu okkar og súkkulaðikökur til að bæta upplifun þína á ferðum með okkur. Með því að halda áfram að nota þessa vefsíðu ert þú að sammþykkja notkun á vefkökum eins og fram kemur í okkar Persónuupplýsingar.